AAA Fuel Gauge Report: Gas Prices Nationwide Moving Lower in Lockstep
WASHINGTON, D.C. – The national average price for a gallon of regular gasoline declined again this week, dipping 8 cents to $3.48. This is 13 cents less than one month ago, but 15 cents higher than one year ago, according to the AAA Fuel Gauge Report.
The national average has now fallen for 20 straight days, and 35 of the last 41 days.
Regional supply disruptions in May and early June contributed to sharp price increases in the Northwest and the Midwest as prices elsewhere decreased. Once these production and distribution problems were resolved, prices in the affected areas dropped, AAA reported.
The 34.4 million expected travelers over the Fourth of July holiday will see lower prices thanks to declines in every state and Washington, D.C. Pump prices in Midwest states have dropped the most, including declines of more than 15 cents in Indiana (minus 23 cents), Ohio (minus 20 cents), Michigan (minus 20 cents), Illinois (minus 17 cents), North Dakota (minus 16 cents) and Wisconsin (minus 16 cents). Twelve states in the greater Midwest have seen month-over-month price decreases of 30 cents or more.

In both 2011 and 2012, the national average summer low occurred close to or on today's date. Prices bottomed out at $3.54 per gallon on June 30 in 2011 and $3.33 on July 2 in 2012. Gasoline prices may continue to drift downward in the coming days as the Midwest and Great Lakes regions recover from near-historic highs.
Additionally, gasoline supplies are reported to be at the highest levels in more than two decades for this time of year, while demand remains relatively weak. However, crude oil prices remain substantially higher than in 2012 and will likely limit the amount that prices can fall, according to AAA's forecast. The national average rose 17 cents per gallon in July 2011 and 16 cents in July 2012.
According to the AAA Monthly Gas Price Report for June, the current national average is the lowest average price since Feb. 1.
"Rising gasoline supplies have pushed average prices nationally below the psychologically important level of $3.50 per gallon just in time for one of the busiest travel periods of the year," said Avery Ash, AAA spokesman. "While such relatively small savings are probably not worth celebrating, millions of Americans will be relieved to save a little extra money as they travel for Independence Day."
Gas prices dropped an average of 12 cents, or 3.3 percent, in June, marking the third straight year that prices have fallen to kick off the summer driving season. Despite this, prices didn't drop as drastically as in previous years. In June 2011, gas prices fell 24 cents or 6.3 percent. Last June, they fell 27 cents or 7.8 percent.
For the first half of 2013, th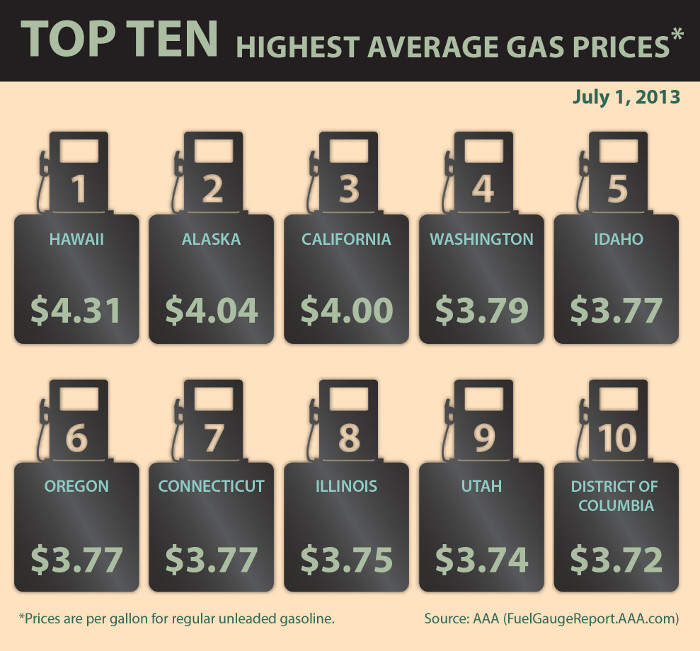 e average price for a gallon of regular gas was $3.57, the second-highest average on record for the period. The highest average came in 2012, at $3.64 per gallon.
Despite the recent drop in prices, this year's Independence Day will likely see the third highest average gas prices on record. The highest average for the holiday came in 2008 at $4.10 per gallon, followed by $3.57 per gallon in 2011 and $3.34 per gallon in 2012.
"Gas prices remain high and may not drop too much further in July because crude oil remains relatively expensive," Ash explained. "Factors such as increased summertime demand and the impending hurricane season also could result in higher pump prices for motorists."
Eight states paid an average price of $4 or higher at least one day during the month of June: Hawaii, Alaska, California, Illinois, Indiana, Michigan, North Dakota and Wisconsin. Only Hawaii and Alaska are still paying an average higher than $4, at $4.32 and $4.04, respectively.
The five states paying the current highest average prices are Hawaii, Alaska, California, Washington and Idaho. The five states paying the lowest average prices are South Carolina, Alabama, Mississippi, Tennessee and Missouri.