CHS Mourns Passing of Former Chairman Steve Burnet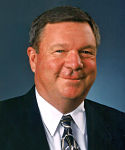 MORO, Ore. -- Steve Burnet, an Oregon farmer and cooperative leader who helped create CHS Inc., died Jan. 19 at the age of 72.
Burnet, of Moro, Ore., was instrumental in the 1998 unification of former Harvest States Cooperatives and Cenex Inc., to form CHS Inc., an energy, grains and foods company which today is the largest U.S. cooperative business. In addition, in the early 1980s, he helped lead the merger of North Pacific Grain Growers of Oregon with Farmers Union Grain Terminal Association of St. Paul, Minn., to create Harvest States.
"Steve's vision, dedication, quiet leadership and gentle humor played invaluable roles in setting future direction and in helping cooperatives address challenging organizational changes and emerge even stronger," said CHS Chairman David Bielenberg. "He viewed the cooperative system as a tool essential to producers' success and helped CHS become a leading domestic and global agricultural and energy company committed to adding value for its U.S. farmer and cooperative owners."
Burnet began his cooperative service on his local Moro and Sherman County cooperative boards, helping to guide them through mergers that ultimately created Mid-Columbia Grain Growers. He served as a director and officer of North Pacific Grain Growers from 1978 to 1983. Following the 1983 formation of Harvest States, he served five years as chairman of the new organization. After the creation of CHS, he served as its CHS chairman for three years, retiring in 2002.
He was active in agricultural organizations, education and government, serving as a director on the Agricultural Co-op Council of Oregon, on the board of the Oregon State University Alumni Association and as a member of the Wheat Growers League and the Oregon Cattlemen's Association. He served eight years on the Sherman County Board of Commissioners.
He is survived by his wife, two daughters and four grandchildren.