Couche-Tard Readies for Next Generation of Leadership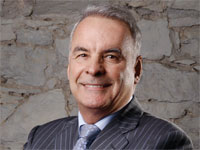 Alain Bouchard
LAVAL, Quebec -- As Alimentation Couche-Tard Inc. spreads its wings beyond its North America foothold, the Canada-based retailer may do so with new leadership.
President and CEO Alain Bouchard, one of the company's four founders, plans to give up his CEO title within the next two years, according to a recent article in The Globe and Mail.
"I'm a strong believer in new blood and having younger people at the helm," Bouchard said. "I think it would be good for the company that I move to a different role."
Waiting to lead Couche-Tard into the future are Chief Operating Officer Brian Hannasch and Jacob Schram, group president, Europe, at Statoil Fuel and Retail (SFR). Couche-Tard acquired Norway-based SFR last year. Schram is the point man for the company's new European growth path and Hannasch, who spearheaded Couche-Tard's U.S. expansion, is the CEO-in-waiting, according to the news report.
Once he takes a step back from the company, Bouchard will become the last of the founding partners to curtail his involvement in Couche-Tard.
For three decades, the company was run by four friends who worked, dined, fished and vacationed together. They maintained control over the company with approximately 60 percent of voting rights, despite owning just 22.4 percent of the total equity. Richard Fortin, former chief financial officer; Jacques D'Amours, former vice president of administration; and Réal Plourde, former chief operating offer, rounded out the quartet.
The retired founders still make their mark. Plourde and Fortin visited some SFR stores before the acquisition, and Fortin provided financing advice. In addition, each founder now brings one adult child to board meetings.
Under a long-standing agreement, the partners' multiple voting shares will convert to common stock when the youngest of the four -- D'Amours -- turns 65 in 2022.
However, any changes could still be a long way off. Bouchard, now 64, intends to relinquish the CEO title, but plans to retain an executive title, stay actively involved, hunt for acquisitions and work on new convenience stores.