Hunt Brothers Introduces Pizza of the Month Promotion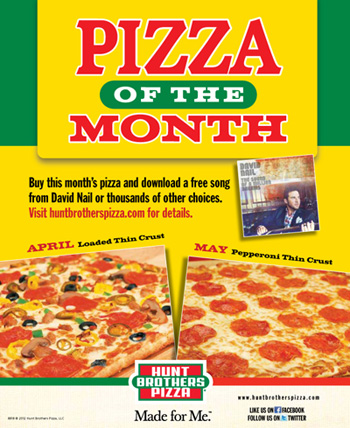 NASHVILLE, Tenn. -- Hunt Brothers Pizza launched a new Pizza of the Month Promotion that includes a bonus musical gift. Customers who purchase the month's featured pizza will receive one free download from Universal Music Group Nashville by visiting huntbrotherspizza.com, clicking on the Pizza of the Month image and completing a brief survey about their order.
"Hunt Brothers Pizza consumers are also big music fans, so we are excited to partner with Universal Music Group Nashville to reward consumers who try our Pizzas of the Month," said Keith Solsvig, vice president of marketing for Hunt Brothers Pizza. "We offer more than 10 different toppings all at no extra charge, so the Pizza of the Month promotion is a great way to get consumers to try more of the toppings we offer and give us feedback on their flavor preferences."
Each Pizza of the Month will feature a new topping combination designed to make customers think about new and interesting ways to top their pizzas, the company said. Combinations will vary from traditional Thin Crust Pepperoni to the Pepper Palooza that includes pepperoni, green peppers, banana peppers and jalapeño peppers.
After filling out the survey online, consumers can choose their free download from Universal's 400,000-song catalogue.
"With more than 6,500 locations in 28 states, the Hunt Brothers Pizza partnership is a great vehicle to promote our artists and music to a lot of potential fans," said Tom Lord, vice president of marketing for Universal Music Group Nashville.