Kellogg's Convenience Team Spices Up Packaging for Cheez-It Snack Mixes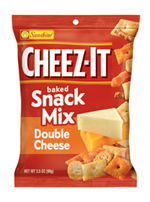 ELMHURST, Ill. -- Kellogg's Convenience Team is introducing new packaging to Cheez-It Snack Mixes to more accurately reflect the flavorful product inside, the company announced.
With taste as the main reason consumers select a particular snack food, the new bold flavor call outs and appetizing imagery on Cheez-It bags will help shoppers better identify the product and its unique snack flavors, said Kellogg's. The Cheez-It flavors will remain the same.
Cheez-It is currently the No. 1 cracker brand in c-stores, according to Kellogg's. All five flavors come six pouches per case and feature a peg hole for easy hanging.