Kwik Trip Orchestrates Effort to Move LNG and CNG Forward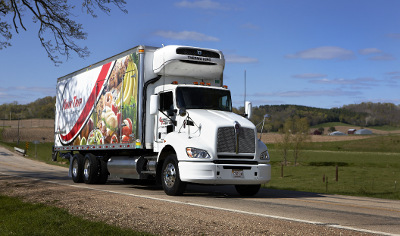 LA CROSSE, Wis. -- Kwik Trip Inc. doesn't just sell liquefied natural gas (LNG) and compressed natural gas (CNG) at some of its locations. The convenience store chain also utilizes both fuels in its fleet.
According to Kenworth Truck Co., Kwik Trip's belief in the two alternative fuels is "helping to move the nationwide adoption of LNG and CNG as viable sources in Wisconsin, Minnesota, Iowa and beyond."
"We not only supply the fuel, we use the fuel," Chad Hollett, Kwik Trip's director of transportation and distribution, stated in a Kenworth news release. "We have 400 vehicles ranging from cars to Class 8 trucks and we're making the move toward natural gas in our fleet. Today, we have 20 vehicles in operation with more coming."
Among Kwik Trip's fleet are a Kenworth T440 LNG tractor and two Kenworth T440s powered by CNG.
As CSNews Online previously reported, Kwik Trip hosted the first Natural Gas Tradeshow and Summit -- an effort to further promote both fuels -- last month at its Wisconsin headquarters.
"We want to make natural gas a more mainstream option and no longer just a fuel alternative," Hollett told CSNews Online at the time. "Kwik Trip is located on the corner of Main [Street] and Main [Street] in so many communities. You've heard that story about the chicken and the egg. Natural gas has often been saddled with that slogan. But by bringing infrastructure to the market and efforts by companies and ownership groups such as the Zietlow family [here] in La Crosse will move the needle when it comes to driving natural gas to the marketplace."
Natural gas has recently been touted as a good alternative to petroleum because it is purported to be locally produced, plentiful in supply, cheaper and cleaner burning than its counterpart.
"We're true believers and activists in making LNG and CNG go from an alternative fuel to a standard fuel," Hollett said in Kenworth's news release.
Kwik Trip operates more than 400 c-stores.
Kenworth manufactures a wide range of heavy and medium duty trucks.