Nestlé Crunch Girl Scout Candy Bars Expected to Fetch Big Bucks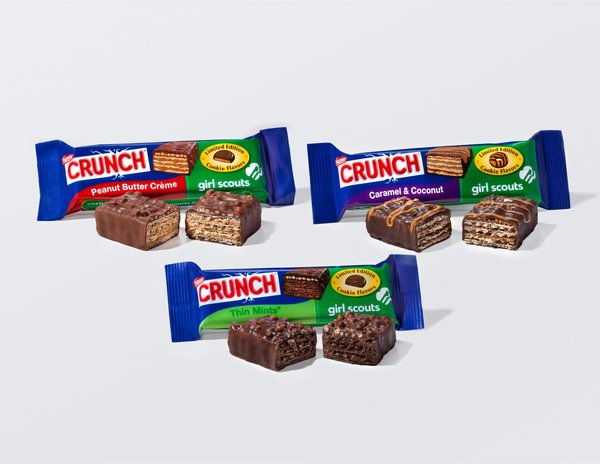 LOS ANGELES -- A set of three candy bars for $500? That's what auction house Heritage Auctions has appraised for a set of three new limited-edition Nestlé Crunch bars.
The Nestlé Crunch Girl Scout Candy Bars, which Heritage Auctions is dubbing as the "world's most valuable candy bars," are a limited-edition set of three bars going on pre-sale today on Nestlé USA's Facebook page.
The candy bar set is inspired by the most popular selling flavors of Girl Scout cookies. The three new varieties of Nestlé Crunch bars are: Thin Mints, dark chocolate cookie wafers with mint chocolate crème and crispies; Caramel & Coconut, cookie wafers layered with coconut caramel crème and caramel; and Peanut Butter Crème, cookie wafers layered with peanut butter crème, crispies and a chocolate coating.
Of course, not every candy bar set will sell for the sweet price of $500. Heritage Auctions is auctioning three bars from Nestlé's first production run and hopes to receive $500 for the set because they will become "regarded as treasures of pop culture."
"When word of this irresistible combination of Nestlé Crunch and Girl Scout Cookie flavors leaked earlier this year, consumers started calling," said Tricia Bowles, spokesperson for Nestlé USA, Confections and Snacks. "One said he'd give us all of his money for Nestlé Crunch Girl Scout Candy Bars!"
Once the pre-sale is concluded, Nestlé Crunch Girl Scout Candy Bars are expected to go on sale as a limited-edition product at retail locations nationwide -- including convenience stores -- from June 1 through the end of September. The bars are expected to retail in the $2 price range each.
In conjunction with the new candy bar launch, painter Alexandre Renoir created an original painting of the bars that will be auctioned off at a VIP event at Galerie Michael in Beverly Hills, Calif., on May 31.