Nestlé Crunch Kicks Off 75th Birthday Celebration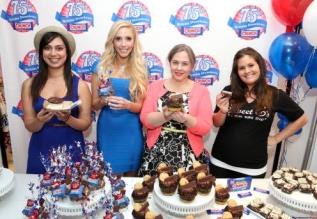 GLENDALE, Calif. -- In honor of the 75th birthday of the Nestlé Crunch candy bar, the brand kicked off a month-long competition among the nation's top bakeries to determine the best Nestlé Crunch-inspired birthday treat.
"As an all-American treat invented and still made today in the USA, Nestlé Crunch is thrilled to celebrate its first 75 years with our fans and some of the nation's top bakeries," said Tricia Bowles, spokesperson for Nestlé USA Confections & Snacks. "There's no sweeter way to celebrate this milestone than by having award-winning bakeries and pastry chefs create new Crunch-inspired treats, just like many of our fans do at home every day."
The 15 award-winning bakeries vying to win the Nestle Crunch 75th Birthday Showdown were revealed at Los Angeles' Sweet E's Bake Shop, one of the participating bakeries. The other participants include:
Cakeology, Boston
 
Casey's Cupcakes, Orange County, Calif.
 
Coolhaus, Los Angeles
 
Crumbs Bake Shop, Los Angeles and New York (and available nationwide)
 
Cupcake and Cookie, Los Angeles
 
Dia Doce, Philadelphia
 
Frosted Bakery, Tomball, Texas
 
Kickass Cupcakes, Boston
 
Lutz Bakery, Chicago
 
Molly's Cupcakes, Chicago
 
Sift Cupcake + Dessert Bar, San Francisco
 
Society Bakery, Dallas
 
Sweet Mandy B's, Chicago
 
Three Brothers Bakery, Houston
Fans can take part in the competition by voting for their favorite bakery or Nestlé Crunch-inspired treat on the company's Facebook page. Additionally, those who live near one of the participating bakeries are invited to taste the Nestlé Crunch-inspired treats during the contest period.
The top three Crunch-inspired treats that receive the most votes on Facebook through April 21 will be featured in a grand-prize bake-off. The grand-prize winner will be selected by the Nestlé Crunch culinary team, along with celebrity chef Carla Hall, best known as a co-host on ABC's lifestyle series "The Chew" and owner of artisan cookie company Alchemy by Carla Hall.
Additionally, each time a fan votes on Facebook, they will have a chance to instantly win a Nestlé Crunch single bar.