Nice N Easy Rock 'n' Rolls at Trade Show
LIVERPOOL, N.Y. -- The mission statement of Nice N Easy Grocery Shoppes is short and sweet: "Be nice. Have fun. Sell stuff. Be the best." At its annual trade show, held yesterday at the Holiday Inn here, company executives focused on the third tenet, "Sell stuff."
"As good as we are, we can sell more stuff. If we sell every customer just one more thing, that would be huge," company founder and President John MacDougall told the store managers, assistant managers, foodservice managers and franchisees gathered for the event, which took on a rock 'n' roll theme this year. "Take that back as your goal for the rest of this year. That's a challenge you can talk to your people about."
On a corporate level, MacDougall shared what the 80-store New York State chain is doing to sell more stuff. One of the best ideas of 2011, he said, was the launch of the "Best Idea" program, which encourages employees to submit their best ideas for the company. "This continues every week now," the chief executive said. "We're getting some top-notch suggestions."
Also last year, Nice N Easy brought on professional chefs to elevate its already-strong Easy Street Eatery foodservice offer of pizza and subs. The chefs recently led the chain in developing a home meal replacement (HMR) line of microwaveable entrees, all priced at $6.99.
"You have to find people who are experts in the business you want to be in," MacDougall said, introducing Chef David and Chef Andrew to the group. "We really want to take our foodservice business up three notches. We want to be the best."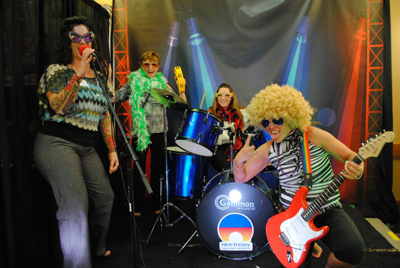 Laura Horner and Georgeanne Kovacs
To get the managers pumped up about this year's goals and celebrate the achievements of 2011 -- which included chainwide growth of 5 percent and an additional $160 million in inside sales -- MacDougall led the crowd in the "Tiger Pump," the signature move of star golfer Tiger Woods.
"You did a great job in 2011 and things are going to be even better in 2012," he added.
As part of the "sell more stuff" theme, guest speaker Joseph Bona of New York-based branding and retail design consultancy CBX, talked about capturing the emotions behind the purchase. With increasing cross-channel competition, he said retailers have to deliver more than a "transaction." CBX helped Nice N Easy develop its current prototype and the Easy Street Eatery concept.
"Selling more stuff is creating that emotional connection with people. The greater the connection, the more stuff you'll sell," Bona said. "Consumers today have choices; they have a lot of places to buy a lot of stuff. That's why the connection is so important."
Among Bona's recommendations for selling more stuff were to:
Ensure a positive first impression because consumers can either gain or lose an appetite upon entering a store.
Give customers easy access to products by keeping the store open, clean and uncluttered.
Create destination departments by taking a category with already strong sales and merchandising it in its own separate area.
Create bundled solutions, presenting the whole package to consumers in one place.
Carry locally sourced products to connect with customers.
Use private label to build loyalty, since these products can't be found anywhere else.
"It's all about experience," he concluded. "Everybody is realizing that if I don't deliver something beyond the transaction, I'm going to be left out."
Nice N Easy's Rock N Roll Trade Show 2012 also featured an afternoon expo where vendors showed off their newest products, and the c-store chain held a contest to find potential new items for Easy Street Eatery, which is available in 20 of the company's 36 corporate stores. An evening awards banquet followed, honoring the top employees, stores and vendors of 2011.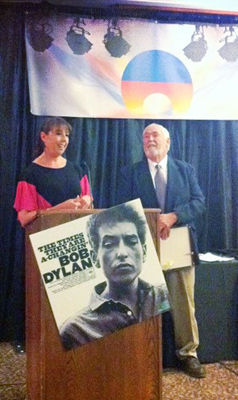 Kate Millett
This year's award winners included:
Store Manager of the Year: Laura Horner, Westmoreland
Sharon Jordan Memorial True Spirit Award: Kate Millett, district manager
Foodservice Manager of the Year: Georgeanne Kovacs, Westmoreland
Store of the Year: Taft Road, East Syracuse
Franchise of the Year: KMAC/Deb Ostrander
Assistant Manager of the Year: Krista John, Le Ray Street
Foodservice Coordinator of the Year: Janet Manzer
Total Customer Experience (mystery shop program): first place, Downtown Seneca Falls; second place, Fayetteville; third place, Manlius and Constableville (tie)
Trade Partner of the Year: Hormel Foods