NOCO Getting 'Iced' in Buffalo Sabres Sponsorship Deal
TONAWANDA, N.Y. -- NOCO Energy has Buffalo Sabres fever. The parent company of the NOCO Express convenience store chain agreed to a sponsorship deal that will feature the iconic green and orange NOCO logo with its new "At Home, At Work, and On the Go!" tagline at center ice in the First Niagara Center.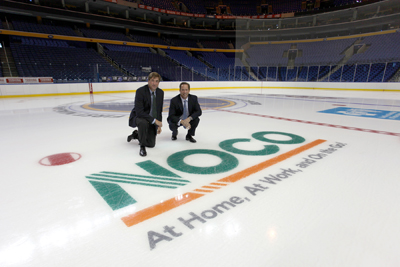 "As a third-generation local and family owned company, the NOCO team has been bleeding blue and gold, and few colors in between, since the team's inaugural season in 1970," said NOCO President James D. Newman. "Everyone at NOCO, including our customers, is very excited about the upcoming season."
Michael F. Newman, NOCO's executive vice president, said the company is always looking for ways to stay connected with its community and customers. "What better way than to support a local favorite like the Sabres," he noted. "As a long-time supporter of the team, NOCO wanted to take it to a new level and be a part of the Sabres journey to the [Stanley] Cup."
Sabres Vice President of Sales and Business Development John Livsey said the organization is very grateful to NOCO Energy Corp. for its continued sponsorship and support of the team. "NOCO is a well-respected local company with deep roots in the community, and we are proud to have the Newman family and all of the NOCO employees on our corporate roster," he added.
NOCO Energy operates 32 NOCO Express c-stores throughout Western New York.