Pepsi Teams With the King of Pop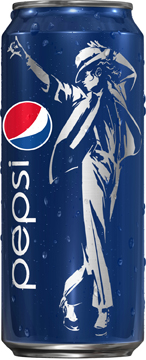 PURCHASE, N.Y. -- PepsiCo has formed an exclusive global partnership with the Estate of Michael Jackson as part of its recently announced "Live for Now" campaign. Coinciding with the 25th anniversary of Jackson's multi-platinum "BAD" album, the partnership will feature a retail campaign, special live events and special edition merchandise.
"Pepsi has always been at the forefront of pop culture, helping to shape the music landscape," said Brad Jakeman, president, Global Enjoyment Brands, and chief creative officer, PepsiCo Global Beverages Group. "This unique global partnership, around such a legendary music milestone, invites Pepsi fans from around the world to experience Michael Jackson's music in an engaging and very NOW kind of way -- it's a model example of how Pepsi's 'Live for Now' campaign can manifest itself in a way that resonates the world over."
Iconic silhouette of the King of Pop will appear on collectible limited edition cans. Pepsi will also hold multiple contests in markets around the world that give fans the chance to win merchandise such as jackets inspired by the original staff BAD tour jackets and tickets to Cirque du Soleil's "Michael Jackson THE IMMORTAL World Tour" touring show.
"We are thrilled to bring Michael and Pepsi back together, as they were in 1988, to celebrate the 25th anniversary of the BAD album and tour and to put Michael on one billion Pepsi cans -- perhaps a Guinness record," commented John Branca and John McClain, co-executors of the Estate of Michael Jackson. "We're excited to see it all come to life."
The U.S. and China will be among the first Pepsi markets to launch exclusive Michael Jackson activity this year, followed by approximately 20 additional markets in Asia, South America and Europe.
A 33-milliliter limited edition can will be available in China starting May 5, and from May 15 through June 14, fans will be encouraged to share photos from their Jackson collections or original artwork celebrating him for the chance to win Cirque du Soleil tickets as part of China's "In Honor of King of Pop MJ" promotion.
In the U.S., Pepsi will launch a nationwide retail campaign in late May that includes a limited edition 16-ounce King of Pop can and a music-themed retail promotion.
"Michael Jackson will always be the King of Pop, and his music has always inspired fans and artists alike," said Frank Cooper, chief marketing officer, Global Consumer Engagement, PepsiCo. "But, this partnership goes beyond nostalgia and will engage with consumers all around the world with iconic imagery on more than one billion Pepsi cans, digital content and epic, live events, so that they can continue to connect with Jackson's music and honor his legendary impact on entertainment."
Michael Jackson's relationship with Pepsi spanned more than 25 years during his career. He starred in his first Pepsi campaign in 1983 alongside his brothers as part of the "New Generation" campaign, followed by Pepsi's sponsorship of the BAD tour and the iconic "Chase" commercials, the company said. Pepsi also featured Jackson in the "Music Icons" commercial that premiered during "The X Factor" in 2011.
Launched last month, Pepsi's "Live for Now" campaign will come to life in 2012 through an array of global pop-culture platforms and unique partnerships, as CSNews Online previously reported.