Phillips 66 Makes Long-Awaited Debut as Independent Company
HOUSTON -- Convenience store retailers sporting the Phillips 66 banner and its affiliated brand names can expect an even heavier focus on loyalty programs and related services now that the company is spun off from ConocoPhillips Inc., company executives told CSNews Online exclusively.
Phillips 66 was officially spun off this morning from its former parent company and now trades as an independent company under the symbol PSX on the New York Stock Exchange. The new Houston-based business, which operates one c-store across the street from its headquarters and has thousands of branded marketer sites, is responsible for all of ConocoPhillips' former downstream assets and many of its midstream assets.
"We want to continue to focus on the programs and services that help our customers build sustainable businesses," Phillips 66's President of Global Marketing Andy Viens told CSNews Online, referring to its branded convenience store and gas station locations. "If you look at how volatile the market is today -- such as competitive pricing and all of the different regulations we're looking at -- it's a difficult environment. [But] we think there are a lot of solutions we can work toward together so they have a good business model going forward."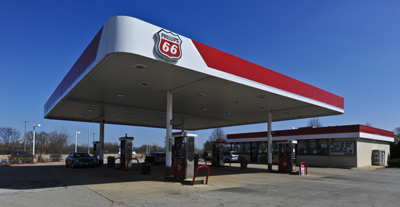 The petroleum company has branded agreements with marketers and resellers that give c-store/station operators the right to use its brands at thousands of sites. This includes 76- and Conoco-branded outlets as well, noted Michael O'Connor, manager of programs and brand image for Phillips 66.
Now that Phillips 66 is spun off, the industry can expect to see even more emphasis placed on Conoco's KickBack Points coalition loyalty program, as well as 76's "We're on the Driver's Side" marketing campaign and Phillips 66's "Experts in Gas Since 1927" campaign, according to Viens. "We will also look to improve our credit card programs moving forward," he noted. "…We want to help drive consumers to the c-store. C-stores are a very important industry to Phillips 66."
"'Gas For Life,' a program to drive consumers to specific locations, is another example of things we are doing to driver consumers into stores," added O'Connor.
Although its branded marketers won't see a lot of changes beginning today, Phillips 66 will be different than the combined ConocoPhillips on the corporate level.
"In the past, a lot of the excess cash flows we had [went] to the upstream [division]. "As an integrated company, that was the way it should be. But we did not fund a lot of opportunities we had in the past," said Viens. "Now, if you look at the portfolio, we think we are a differentiated downstream company. We're not just refining, marketing and transportation, where we have very strong assets. We also have midstream assets through our joint venture with DCP [Midstream], as well as a 50-50 venture with Chevron called Chevron Phillips Chemicals. There are lots of opportunities out there."
Viens stressed that Phillips 66 is still a large company post-spinoff. "We will still be a Fortune 10 company," he said. "So, we will still have a lot of scale and scope."
Leading the new Phillips 66 is Chairman and CEO Greg Garland, who Viens described as a "great guy."
"When I first met Greg, we were asking each other questions about our backgrounds," he said. "Greg actually sold chemicals out in the field for quite awhile, so he really understands what we do from a marketing perspective, and with the time he spent involved with the Chevron-Phillips joint venture, he certainly understands manufacturing. He also understands creating shareholder value and growth."