25 Years of Leadership: 2002 to 2006
On Sept. 29, 1987, at the NACS Show in Toronto, Chester Cadieux became the first retailer inductee to enter the Convenience Store Industry Hall of Fame, sponsored by Convenience Store News.
As we reported then, it was a fitting tribute to the founder, president and chairman of then-248-store QuikTrip Corp., based in Tulsa, Okla. On that day, Cadieux, a man who had helped shape the convenience store industry for the previous 30 years, became the first in a long line of industry luminaries whose collective entrepreneurship, management style, vision and leadership have forged today's $574-billion convenience store industry.
On this, the 25th anniversary of the CSNews Convenience Store Industry Hall of Fame program, we thought it appropriate to pay homage to our previous inductees and recount some of the highlights of the past quarter-century history of the Hall of Fame program.
Here, we look back on the honorees from 2002 to 2006.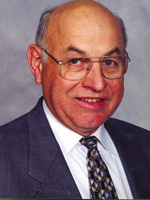 2002: John Hansen, Kwik Trip Inc.
Kwik Trip co-founder and former president John Hansen and Chicago-based Wm. Wrigley Jr. Co. were the Hall of Fame inductees in 2002.
In the early 1960s, Hanson, tired of life on the road, converted an old IGA grocery store in Eau Claire, Wis., into his first convenience store. He and his wife, Donna, came up with the name Kwik Trip.
"It was quite a commitment," Hansen told CSNews just before his induction ceremony, which fell on his 41st wedding anniversary, "working from 7 in the morning to 11 at night, every weekend and every holiday, to get the store going."
Under Hansen's direction, Kwik Trip grew to nearly 300 c-stores, 45 discount tobacco outlets, seven truck stops, a warehouse distribution center, bakery, sandwich commissary, dairy, ice plant, truck fleet and maintenance shop. When he sold his interest in Kwik Trip in July 2000, the retailer had sales of more than $1.1 billion and employed more than 5,100 people.
Hansen went on to form Nesnah Ventures, an investment firm based in Wisconsin.
| | |
| --- | --- |
| | |
| John MacDougall | Joe Burke |
2003: John MacDougall, Nice N Easy Grocery Shoppes Inc.
In 2003, hundreds of industry retailers and suppliers gathered in the Regency Ballroom of the Hyatt McCormick in Chicago to induct Nice N Easy Grocery Shoppes CEO John MacDougall, Hershey's Food Corp. and, in the new category of individual supplier, Joe Burke, vice president, retail industry affairs, at Coca-Cola Enterprises Inc.
MacDougall founded Nice N Easy in Canastota, N.Y., in 1980 with two partners. He is also one of three founders of the New York Association of Convenience Stores (NYACS), where he served as chairman, and is a former member of the NACS board of directors.
"John is incredibly modest, totally honest and you can trust him with anything," said Fran Duskiewitcz, then Nice N Easy's vice president and CFO, who has now worked with MacDougall for more than 26 years.Other colleagues credited MacDougall for always putting people first, in both his business and charitable dealings. But underneath his big heart, MacDougall was also described as a serious and keen businessman who has kept his upstate New York chain a step ahead of the competition throughout the past 30-plus years.
Joe Burke was the perfect person to be chosen as the first individual supplier representative into the Hall of Fame. To most retailers, he was the face of Coca-Cola, and spent most of his adult life under the Coke banner.
| | |
| --- | --- |
| | |
| Hank Armour | Jerry Rose |
2004: Hank Armour, West Star Corp.
The 2004 retailer inductee into the CSNews Convenience Industry Hall of Fame, Hank Armour, was described as a man driven by passion: a passion to learn, a passion to succeed, a passion for high values and integrity, and a passion for his life's work -- the convenience store industry.
Little has changed about Armour, who is currently president and CEO of NACS and was just stepping into that position at the time of his Hall of Fame induction.
Armour grew up working in his family's retail automotive and wholesale transportation businesses. He later managed retail service stations and transportation facilities before rising to COO of Armour Oil Co. in 1977. From 1980 to 1982, he served as manager of development strategies for Standard Oil Co. of Ohio, before founding West Star Corp., an operator of convenience stores, truck stops and quick-service restaurants in the Pacific Northwest.
Inducted alongside Armour was Jerry Rose, vice president of trade relations for Temple, Texas-based McLane Co. Rose has served convenience stores and other clients of the giant wholesaler since 1989. he retired just this past February. 
| | |
| --- | --- |
| | |
| James Keyes | Mike Irish |
2005: James Keyes, 7-Eleven Inc.
Two of the giant companies in convenience retailing were honored in 2005 as the Hall of Fame inducted Jim Keyes, president and CEO of 7-Eleven, and Michael Irish, government affairs director for Philip Morris USA.
At the Dallas reception -- the first year that the Hall of Fame induction was conducted in the home city of the retailer honoree -- Keyes was surrounded by 7-Eleven and other convenience industry retailers in what turned out to be somewhat of a retirement party. Two weeks after his induction, Keyes retired as Seven-Eleven Japan Co. Ltd. completed its tender offer for 100 percent control of Dallas-based 7-Eleven Inc.
Nevertheless, Keyes is credited with successfully spearheading one of the biggest turnaround stories in convenience retail history. "I hope I will have played a role in the transformation of 7-Eleven and that people will look back and say, 'Jim was responsible for getting the company to turn the corner.' I don't know if I will be the one to take it to the next level or if my strength is in the change -- creating the change. That remains to be seen," Keyes told CSNews at his induction.
Often described as a maverick and a leader who has erased the words, "it can't be done," from his vernacular, Keyes' single-minded focus on the customer helped resuscitate the then-$41 billion convenience store retailer. Before being taken private by Seven-Eleven Japan Co., 7-Eleven Inc.'s stock value during Keyes' tenure soared, from about $2 per share in 2000 to $37.50 per share in 2005. When Keyes retired upon the sale of the company, 7-Eleven had produced 36 consecutive quarters of same-store sales increases.
Keyes didn't remain retired long. Two years later, he took on an even more daunting turnaround job -- becoming CEO of Blockbuster Inc., the video store chain. That turnaround didn't turn out as well, as Blockbuster filed for Chapter 11 bankruptcy protection in 2010.
| | |
| --- | --- |
| | |
| William A. Krause | William P. Laufer |
2006: William A. Krause, Krause Gentle Corp.
The Hall of Fame induction venue moved to Des Moines, Iowa, in 2006, to pay homage to William A. Krause, one of the convenience industry's true pioneers, and William P. Laufer, the popular veteran of Anheuser-Busch.
Krause, whose Kum & Go chain operated 445 stores at the time, was visibly touched as he accepted the honor with his wife, Nan, at his side. "I am blessed with some of the greatest friends and some of the best vendors," he said to the audience that included his son, Kyle, who is Kum & Go's president and CEO, Kum & Go employees and other retailers and industry suppliers.
As head of one of the largest family-owned enterprises in America, Krause gave sincere thanks to his family, from his late father-in-law and partner Tony Gentle to his three children who actively participated in many evening "board meetings" around the dinner table.
"I missed a few evening meals in my life, but I always had this girl at my side to ask me, "did you make the deal?" said Krause, thanking his wife for her unflagging support.
For profiles of the inductees from 1987 to 1991, click here.
For profiles of the inductees from 1992 to 1996, click here.
For profiles of the inductees from 1997 to 2001, click here.