7-Eleven Adds More Latin Flavor to Its Hot Foods Menu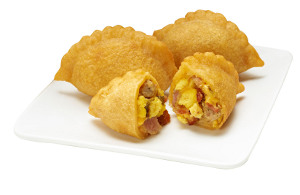 DALLAS -- Following the success of its Mini Tacos, 7-Eleven Inc. is bringing some more Latin inspiration to its menu with the introduction of Breakfast Empanada Bites. The miniature, crescent pastries are filled with eggs, cheese, bacon, smoked ham and sausage, and are priced at $1 for three at participating 7-Eleven stores.
Similar to the c-store retailer's Mini Tacos, which were introduced last year, the Breakfast Empanada Bites are heated in rapid-cook ovens at 7-Eleven stores and served hot.
When tested in select stores, the Breakfast Empanada Bites ranked extremely high for flavor, value and uniqueness, 7-Eleven noted. A serving of three bites contains 10 grams of protein and only 230 calories. The new breakfast snack also aligns with several current food trends, including the growth of breakfast and snacking occasions, and the continuing popularity of Hispanic foods.
Specifically, the c-store chain cited research from Mintel, which projected strong growth in ethnic foods, including the Hispanic food category, across all U.S. demographic groups.
7-Eleven also cited a study from The NPD Group, which found that more people are recognizing that breakfast is the most important meal of the day and are less likely to skip it. Additionally, the study showed that the act of snacking will grow faster in the morning than at any other time of the day and that the first meal might actually consist of two morning snacks -- one at home and the other on the go.
"Breakfast and snacking are both growth areas in the food industry and strong dayparts for 7-Eleven," said Kelly Buckley, vice president of fresh food innovation. "Mornings are our busiest time of day, and 7-Eleven is a destination for snacks and drinks all day long. The Empanadas Bites meet a need for a hot, savory, high-protein breakfast and a snack option. And, at a dollar for three, customers can get big flavor on a budget."
Dallas-based 7-Eleven Inc. operates, franchises and licenses more than 10,100 7-Eleven stores in North America.