7-Eleven Gifts Baltimore Police a New Slurpee Jr. Horse
Get great content like this right in your inbox.
Subscribe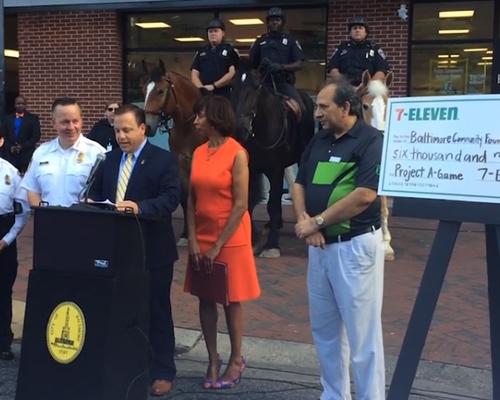 BALTIMORE — 7-Eleven Inc. gifted the Baltimore Police Force the largest Slurpee ever this week.
The convenience store chain donated a four-year-old chocolate draft horse, which it named after its famous frozen beverage, to Baltimore's mounted police force, reported the Baltimore Sun.
Mayor Catherine E. Pugh, Baltimore Police Commissioner Kevin Davis and c-store employees welcomed Slurpee to the force during a Sept. 27 ceremony in front of the 7-Eleven store located at 55 Market Place.
Slurpee will step into the professional role vacated by a retiring mounted police force veteran, also named Slurpee, that 7-Eleven funded a year ago.
"I'm excited to meet our new Slurpee, and I'm sure that our 17-year-old Slurpee is getting his well-deserved rest," said Pugh, who greeted the junior Slurpee with a few pats on his muzzle, according to the report.
Slurpee Sr. served for nearly 10 years after entering the force in 2006. He retired to the hills of Pennsylvania earlier this year.
"7-Eleven wanted to do something else, and this is what we needed," Sgt. Russ Robar said. "This is perfect timing."
Baltimore's mounted police force is one of the oldest mounted units in the country. Slurpee and his peers will help increase ties between the police and members of the community, according to Robar, who cited a 2014 RAND Europe study that associated mounted neighborhood patrols in the United Kingdom with comparatively higher levels of trust and confidence than patrols by police on foot.
"We find that to be absolutely true," Robar said. "I mean, they are just a magnet and it allows us to really bridge that gap with the community and just interact."
Irving, Texas-based 7-Eleven Inc. operates, franchises and licenses more than 60,000 stores in 17 countries, including 10,700 in North America.