7-Eleven Stores Offering Tea for Free
DALLAS --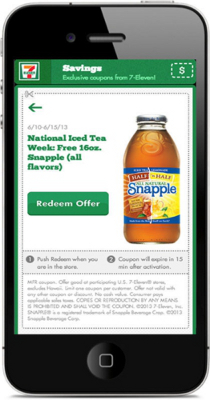 7-Eleven Inc. made National Iced Tea Day an even perkier celebration by extending a Snapple Iced Tea giveaway throughout this week.
Yesterday, the convenience store chain celebrated National Iced Tea Day by offering customers a free 16-ounce Snapple Iced Tea via 7-Eleven's smartphone application (app). The retailer also announced that a mobile coupon will appear on the app each day through Saturday, June 15. The three featured flavors are Snapple Half 'n Half Lemonade Iced Tea, Lemon and Peach.
"If a free bottle of icy cold Snapple Iced Tea is the perfect way to celebrate National Iced Tea Day, then why not extend the fun and flavor and make it National Iced Tea Week?" asked Nancy Smith, 7-Eleven's marketing vice president.
7-Eleven's National Iced Tea Week is part of the retailer's #AWESUMMER campaign that includes special offers and fun events throughout the summer.
To receive the free, daily coupons, smartphone users can text "TEA" to 711711 and download the 7-Eleven app from Apple's App Store or Google Play. For customers who already have the 7-Eleven app, the coupons will be uploaded automatically each day. The coupons can then be downloaded and redeemed at participating 7-Eleven stores. Once downloaded for redemption at a 7-Eleven store, the coupon is valid for 15 minutes before expiring. Each coupon is available for redemption between midnight and 11:59 p.m. on the day it is uploaded.
"Coffee may be America's favorite drink when the weather is cold, but iced tea wins Americans' hearts during the summer," Smith added.
Dallas-based 7-Eleven Inc. operates, franchises or licenses more than 10,110 7-Eleven stores in North America.
Snapple is a division of Dr Pepper Snapple Group.