7-Eleven Travels to Africa for First Seven Reserve Coffee Offering
Get great content like this right in your inbox.
Subscribe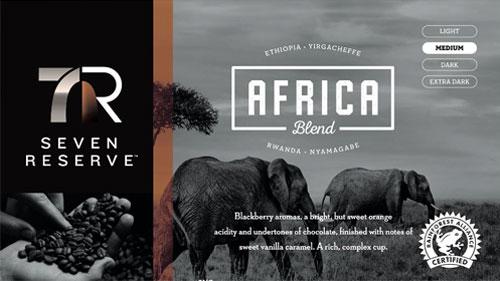 IRVING, Texas — 7-Eleven Inc. went to Africa for the first limited-time coffee available under its new Seven Reserve brand of fresh-brewed premium coffees, as the continent is considered the birthplace of coffee, according to the convenience store operator.
The Seven Reserve Africa Blend is a 50-50 combination of 100-percent Rainforest Alliance Certified Arabica beans cultivated on small farms in the countries of Ethiopia and Rwanda.
Seven Reserve Africa Blend coffee is available at participating 7‑Eleven stores and for the same price as all other hot beverages.
"This isn't just a new coffee flavor for 7‑Eleven, it's an entirely new segment of our business, in which we will be introducing coffees originating from exotic locales specifically known for producing the finest coffees," said Shawn Barnes, 7‑Eleven senior category manager for hot beverages.
"Seven Reserve targets serious coffee-drinkers who are looking for a richer, more intense coffee flavor, but that's just part of the equation. We know our customers also care about coffee crops that are responsibly grown and sourced directly from small farms," Barnes added.
Seven Reserve Africa Blend uses select, hand-picked coffee beans grown in the Yirgacheffe area of Ethiopia that have a full-bodied, intense flavor highlighted by citrus tones, while the Rwandan coffee is cultivated in the Nyamagabe district and named for the Nyarusiza and Remera coffee-washing station. It has sweet, chocolatey undertones, is finished by vanilla caramel notes and complements the Ethiopian beans' fruity acidity.
A medium roast was selected to develop the right balance of each coffee's best characteristics while not overwhelming or masking their inherent flavors with a dark roast, the company said.
Africa Blend is the retailer's first duo-Arabica coffee to carry the Rainforest Alliance Certified seal. Since 2016, 7-Eleven has introduced four responsibly grown Rainforest Alliance Certified coffees: Nicaragua, Mexico, Peruvian and Colombian. Single-origin 100 percent Colombian Rainforest Alliance Certified coffee is now a permanent offering.
The Rainforest Alliance is an international nonprofit organization that seeks to conserve biodiversity and ensure sustainable livelihoods. The Rainforest Alliance Certified seal indicates the 100-percent Arabica beans are sourced from coffee-growers whose farms are required to meet strict standards designed to protect the environment, conserve wildlife and promote the well-being of local communities.
"Industrywide, there is a strong push to make coffee the world's first sustainable agricultural commodity. 7‑Eleven's commitment to responsible sourcing is helping to advance that goal," said Laura Donnelly, senior associate of Markets Transformation at Rainforest Alliance. "By working with smallholder farmers, 7‑Eleven is also helping to transform farmer livelihoods, ensuring a quality coffee supply into the future."
As part of its corporate social responsibility objectives, 7-Eleven will continue to seek out responsibly sourced coffees and other products and packaging with less environmental impact. Future Seven Reserve coffees will include both exotic blends and single-origin brews from top growing areas around the world.
"7‑Eleven coffee-drinkers recognize great quality and taste, and the RFA-certified premium coffees have become some of our best-selling hot beverages," Barnes said. "We will continue to work with our importers to identify unique blends and the highest quality beans for the Seven Reserve brand."
Headquartered in Irving, 7-Eleven Inc. operates, franchises and/or licenses more than 60,000 stores in 17 countries, including 10,700 in North America.