7-Eleven's Rumored Bid for Casey's Spurs Speculation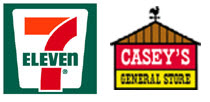 DALLAS -- Though unconfirmed by either convenience store operator, 7-Eleven Inc. is reportedly offering $2 billion for Casey's General Stores Inc.

7-Eleven offered $40 per share to acquire Ankeny, Iowa-based Casey's, which would give the country's largest c-store operator 1,531 more stores, boosting its count of 6,500 U.S. locations, according to the Dallas Morning News.

Since April, Casey's has defended itself from unsolicited offers from Laval, Quebec-based Alimentation Couche-Tard Inc., whose most recent offer was $38.50 a share.

On Tuesday, Casey's announced it received an unsolicited, nonbinding offer of $40 per share from an unnamed party. The chain deemed the $40-per-share bid too low, but added it would begin negotiations and talks were in the early stages. The Wall Street Journal named 7-Eleven as the suitor.

Casey's put its share-value at $45 "without a takeover premium."

Analyst Ben Brownlow with Morgan Keegan & Co. told Reuters 7-Eleven's bid surprised him. "My understanding was 7-Eleven was moving toward more franchise locations and less company-operated locations," he told the news organization. "But with that said, they're certainly large enough."

Brownlow called the bid a "serious" one, adding: "Whether it goes through, I guess it depends on how high both parties are willing to go, because obviously, Casey's board feels $40 significantly undervalues the firm, the company. I definitely don't expect a bid to go through at $40."

Michael Van Aelst, an analyst with TD Securities Inc. said in a research note Wednesday, published before the Wall Street Journal report naming 7-Eleven, that the arrival of a rival bidder could be positive for Couche-Tard, as it might boost Casey's shareholders' backing of its slate of directors, who in turn would be more likely to open up the bidding process in hopes of getting the best price through a bidding war, according to a report by The Globe and Mail.

Couche-Tard reached an agreement earlier this week with the Federal Trade Commission regarding its hostile takeover attempt of Casey's. The agreement would allow the retailer to acquire the Midwestern c-store chain if it divests c-stores at 25 locations within a specified time following the closing of the acquisition, the retailer said.

7-Eleven had $13.7 billion in U.S. sales last year; Couche-Tard's U.S. sales were $12.8 billion.

More than 4,800 of 7-Eleven's 6,523 stores are franchised. Couche-Tard operates 3,455 stores in the United States, 2,910 of which are corporate-owned.

"It seems to me if someone's going to go up against Couche-Tard, they've met their match, so to speak," Brownlow told Reuters.