AAA Fuel Gauge Report: June Should Bring Lower Gas Prices
WASHINGTON, D.C. – For the first time in three months, American drivers are paying more at the pump than they did one year ago, with the national average price for a gallon of regular unleaded gasoline rising to $3.62 per gallon, according to the AAA Fuel Gauge Report.
This is fractions of a penny less expensive than one week ago, but 10 cents more expensive than one month ago and 3 cents more than one year ago. Additionally, the national average has increased for two days in a row after 10 consecutive overnight declines.
However, while prices may rise slightly over the next few days, AAA expects them to decrease nationwide -- and in the Midwest specifically -- as June continues.
"Prices should drop belo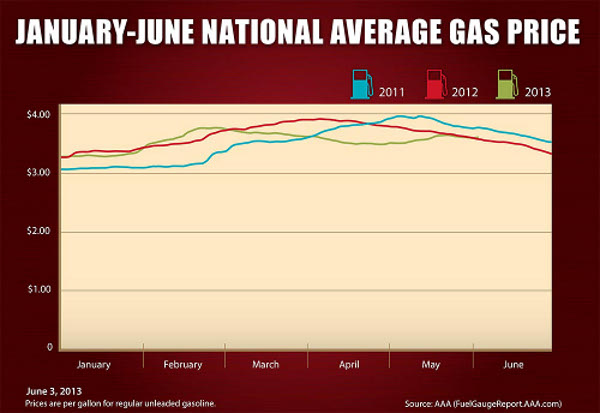 w a national average of $3.50 per gallon by the end of June if refineries can transition smoothly from ongoing maintenance to full production," said AAA spokesman Avery Ash. "Some concerns remain, though, because refineries often have complications when restarting, which could lead to unpredictable problems in the weeks ahead."
While some states have seen fuel prices decline over the last 30 days, prices have risen sharply in the Midwest, Rockies and Pacific Northwest regions, driving the national average higher at a time when prices have traditionally fallen in recent years.
Sixteen states have seen prices increase by more than 20 cents per gallon, and seven Midwestern states (North Dakota, South Dakota, Iowa, Oklahoma, Nebraska, Kansas and Michigan) are paying 30 cents more or higher. Tight supplies, caused by refinery maintenance and other production issues, are the primary cause.
Despite the Midwest price increases, drivers in the region have also seen sizable weekly declines as refinery maintenance finishes and supply concerns ease, AAA reported. Ohio, Indiana and Michigan are the exceptions, with prices there increasing by more than 10 cents per gallon over the last week. This is primarily due to heavy demand for wholesale gasoline in the Chicago market as the summer driving season begins, while planned and unplanned refinery outages have lowered supplies.
AAA also reported in its monthly gas price report for May that last month saw the first monthly price increase for gas since February, at 10.4 cents per gallon. In particular, drivers in the Great Plains region paid the highest gas prices the region has ever paid in May, with both Minnesota and North Dakota breaking all-time record highs, paying $4.27 per gallon and $4.24 per gallon respectively.
"Consumers in the Midwest and other parts of the country faced tremendous frustrations due to rapidly rising gas prices in May," Ash said. "Continued refinery maintenance and other production issues led to tight supplies and a spooked market for much of the month. After seeing prices decline this spring, many motorists were unhappy to pay higher prices heading into the busy travel season."
The year-to-date peak for the national average remains $3.79 per gallon, which occurred on Feb. 27. If this remains the high point for 2013, it will be the first time that gasoline prices have ever peaked in February.