AAA Fuel Gauge Report: Midwest Prices Retreat From Historic Highs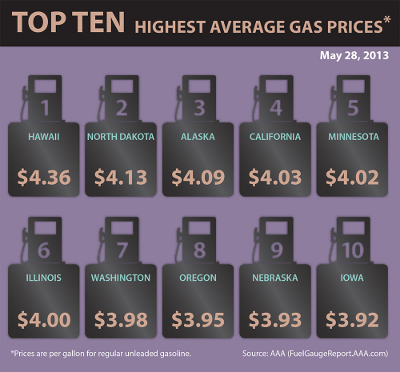 WASHINGTON, D.C. -- For the second consecutive year, the average American motorist paid less per gallon at the pump when filling up for Memorial Day travel, this year paying an average of $3.63 for a gallon of regular unleaded gasoline, according to the AAA Fuel Gauge Report.
In 2011, the national average on Memorial Day was $3.79, and in 2012, it was $3.64. AAA forecast that approximately 31.2 million American drivers traveled 50 or more miles from home over the holiday weekend, a slight increase over last year's 31.1 million.
This week's $3.63 national average is 13 cents more expensive than one month ago, but 3 cents less expensive than one week ago. On average, American drivers have seen a lower year-over-year price at the pump for 87 days. However, since the peak year-to-date discount of 39 cents on April 18, savings have dropped to less than two cents per gallon.
The national average has dropped for six consecutive days following 17 straight days of increases. It is only 3 cents below the recent May 22 peak of $3.66, but still more than a dime less than the year-to-date peak price of $3.79 per gallon, recorded on Feb. 27.
Dramatic price drops from historic highs in the Midwest were key to the overall recent decline, according to AAA. Low gasoline supplies and significant refinery maintenance caused a major run-up in the region, but several states there have now seen week-over-week drops of more than 10 cents per gallon.
Minnesota has seen the greatest decline at nearly a quarter during the same time period, but the state's average is still at a historic high of more than $4 per gallon.