AAA Fuel Gauge Report: Motorists Feeling the Squeeze of Rising Pump Prices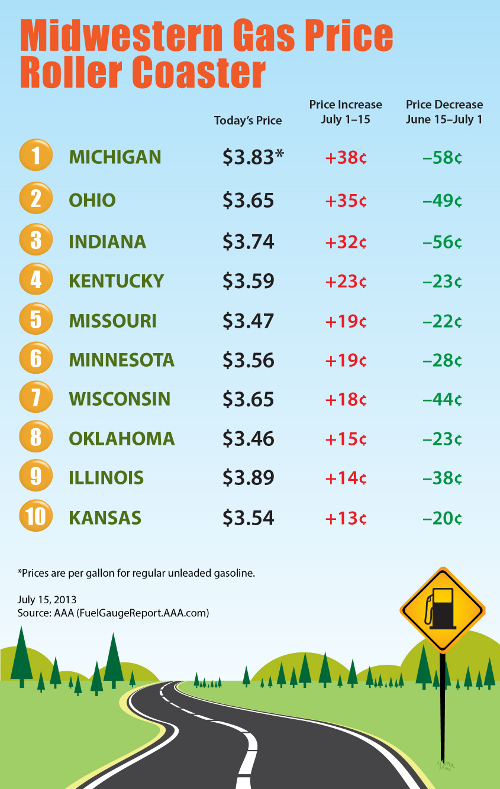 WASHINGTON, D.C. – The national average price for a gallon of regular gasoline rose 14 cents over the past week to $3.61 per gallon. Although this is fractions of a penny less than the average price one month ago, it is 22 cents higher than one year ago, according to the latest AAA Fuel Gauge Report. The national average price has increased for eight days in a row, but remains below the 2013 peak price to date of $3.79, which occurred on Feb. 27.
Gas prices seem to have already hit a summer low of $3.47 on July 7, around the same time as previous seasonal lows, AAA reported. In 2011, the national average bottomed out for the summer at $3.54 per gallon on June 30. In 2012, the lowest summer national average price was $3.33 on July 2. The national average also rose 17 cents per gallon in July 2011 and 16 cents per gallon in July 2012, and has already increased by 12 cents during the first half of this month.
While drivers' wallets may be suffering, the national average is still half a dollar below the all-time daily high of $4.11 per gallon that occurred on July 17, 2008.
Every state but Colorado, Utah and Idaho are paying higher prices than they were one week ago. Midwest drivers are facing the highest jump in prices, with Indiana paying an average of 32 cents more and Michigan paying 30 cents more. This continues a volatile few months for the Midwest, which saw higher prices in late May and early June due to refinery maintenance issues. Current price increases in the area are largely due to new refinery issues, continued tight supplies and higher crude oil prices.
Pump prices have also increased in the Northeast, although not as dramatically, due to higher global crude oil prices and production issues at Irving Oil's Saint John refinery in Canada and Philadelphia Energy Solutions' refinery in Philadelphia, plus planned maintenance at the Phillips 66 Bayway refinery in New Jersey, according to AAA.