AAA Fuel Gauge Report: Pump Prices Remain Low
WASHINGTON, D.C. -- The pain at the pump continues to be not so painful, as the average price for regular unleaded gasoline reached $3.34 per gallon on Monday.
This price is fractions of a penny less expensive than one week ago, 19 cents less than one month ago and 45 cents less than the same day last year, according to the latest AAA Fuel Gauge Report. In addition, the year-over-year discount narrowed 2 cents per gallon since last week, but remains just below the multi-year high discount of 47 cents registered on Oct. 8.
Although gas prices remain low, the national average price at the pump rose by fractions of a penny last Tuesday and Wednesday, which ended a streak of 36 consecutive daily declines -- the longest run since 2008, the report detailed.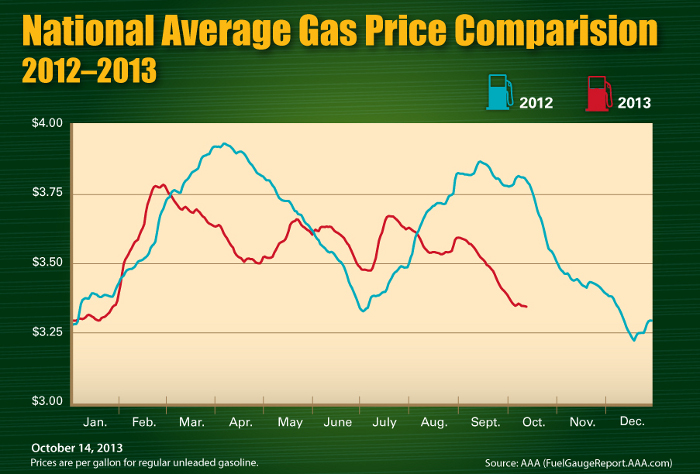 The effects of the partial government shutdown and looming debt ceiling remain question marks. Markets have declined in recent weeks, reflecting concern over the heated impasse in Washington, D.C. However, the larger drop that would be expected to accompany a prolonged shutdown or default on U.S. debt obligations has not yet taken place.
"This suggests that traders are following the assumption that an agreement will ultimately be reached even if it comes at the 11th hour," AAA said in the report. "With the window closing to raise the debt ceiling or face default, this will be a story to watch closely in the days ahead. Should discussions break down, and an agreement not be reached, commodities and equities markets could move sharply lower."

Motorists in every state are enjoying the low gas prices, which are at least 19 cents less than a year ago. Motorists in five states are paying at least 30 cents less per gallon than a month ago.
The national average is fractions of a penny below last week; however, it has been a mixed bag at the state level. Prices in 36 states and Washington, D.C. are lower this week, including six states where motorists are paying at least a nickel less per gallon (Utah, Oregon, Idaho, Hawaii, Washington and Kansas).
This compares to 14 states where prices are more expensive this week, including four states where drivers are paying at least 8 cents more per gallon (Ohio, Michigan, Kentucky and Indiana).
The deadline to avoid the debt ceiling is midnight tonight.