Alain Bouchard Joins Billionaire Club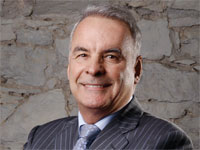 LAVAL, Quebec -- Alimentation Couche-Tard Inc. CEO Alain Bouchard has joined the billionaire club.
According to Forbes, Bouchard's net worth recently reached $1 billion based on Couche-Tard's stock, which rose 64 percent during the past year. The parent company of Circle K in the United States earned $23 billion in 2012 revenues.
"I don't want to be similar to everybody," Bouchard told the news outlet several years ago when it profiled the convenience store chain's U.S. expansion."Here in Canada, we have changed the rules."
Couche-Tard, which means night owl in French, has been very aggressive on the acquisition front lately. Its largest deal was the $2.8 billion purchase of Statoil Fuel & Retail ASA this past April, which gave the c-store chain a large presence in Scandinavia and eastern Europe. Most recently, Couche-Tard acquired 29 Phillips 66-branded c-stores in Illinois, Missouri and Oklahoma.
Bouchard, who plans to someday pass on the reigns of the company to his two children -- a son and a daughter -- is targeting for Couche-Tard to operate 25,000 stores in near future,Forbes reported. The retailer currently has more than 12,000 c-stores worldwide.