Allsup's Founder Lonnie Allsup Passes Away
Get great content like this right in your inbox.
Subscribe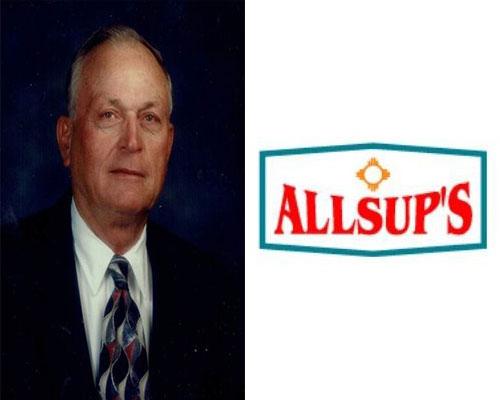 CLOVIS, N.M. — Lonnie Allsup, founder of Allsup's Convenience Stores, passed away on Jan. 28. He was 84 years old.
According to Eastern New Mexico News, Allsup and his wife Barbara started in the convenience store business in 1956, purchasing a "drive-in" grocery store in Roswell, N.M., in 1956. It became known as Lonnie's Drive-In Grocery.
Soon after, a customer suggested that Allsup add gas pumps outside the small store. He said he didn't think it would work, but he gave it a try. In 1963, Allsup sold a dozen of Lonnie's stores and started a new food-and-gas chain in Clovis in 1964, known today as Allsup c-stores. The company's slogan became, "There's one near you."
The Allsups were among the first in the region to sell cooked food and gasoline at the same location, as U.S. News reported. The c-store chain — with more than 300 locations spanning New Mexico and Texas — is known for its chicken chimichanga and beef burrito.
According to legend, the burritos were an accident. Mike Connolly, who worked for Allsup, told the Clovis News Journal in 2014 that an employee was making a traditional burrito and accidentally dropped it into some grease. Another burrito was made for the customer, but the fried version soon became more popular, according to Connolly.
For more than 40 years, staples on Allsup's menu remain the burrito and 32-ounce "Tallsup" soft drink, the news outlet reported.
Remembering the Industry Veteran
"I never met Lonnie Allsup, but all of us small-town folks owe him a debt of gratitude," said Wes Reeves, who travels the region as a spokesman for Xcel Energy.
"As corporate America was shifting everything to the big cities, Lonnie was opening up 24/7 stores in places like my hometown of Wellington, Texas. We even got two stores. If they ran out of burritos in town, there was another opportunity on the highway.
"The stores are still the center of the activity in many towns. What kid growing up in a small town around here hasn't said, 'Meet us at Allsup's' or 'Wanna get a Coke at Allsup's?' I think that's a pretty good legacy," he added.
In addition to their business success, Allsup and his wife have been among the area's most faithful philanthropists. In the past 15 years, the Allsups have donated more than $465,000 to United Way, as well as close to $400,000 for local charities during a six-year run of the El Cid Cutting Horse Cutting Competition since the late 1990s.
Lt. Kelly Berggren, with Clovis' Salvation Army, recalled when Allsup was a speaker at the annual Kettle Kickoff Banquet in 2016: "I pictured in my mind that he would be a real slick, executive-type guy, but the man we met was a grandfather. He was just the kindest, nicest man, and you would have never known that he owned 300 stores or was a man in his position with his attitude. He was very humble and gracious, and was just a pleasure to be around," he said.
Berggren also reflected on a time when the organization's food pantry was running low; he wrote Allsup and received a prompt reply. "He sent me a check for $1,000 and said, 'I sure hope this helps fill your pantry.' He was just that kind of guy. If you needed something, he would be there to help," Berggren recalled.
A memorial service for Allsup is scheduled for Jan. 31 at 2 p.m. at Faith Christian Family Church in Clovis.