Altria's Chairman and CEO Stepping Down
RICHMOND, Va. -- As The Altria Group comes off a strong year, Chairman and CEO Michael E. Szymanczyk revealed that he will retire immediately following the tobacco company's annual meeting May 17.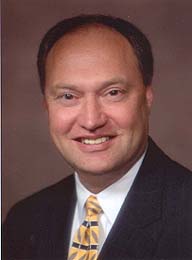 Although still more than three months away, Altria's board of directors already has a succession plan in place, electing Martin J. Barrington to serve as new chairman and CEO, and David R. Beran to be Altria's president and COO, effective May 17. In addition, Barrington joins Altria's board, effective immediately.
"It has been an extraordinary experience to lead the reshaping of Altria following the completion of the Kraft and Philip Morris International spinoffs," Szymanczyk said. "I believe the company is well-positioned to continue to prosper. As I near retirement, now is the time to transition leadership to people of an age to guide the company through its next phase of growth."
Szymanczyk joined the company 23 years ago. During his tenure, he served as chairman and CEO of Altria for four years, and president and CEO of Philip Morris USA (PM USA) for 12 years. He came on board as senior vice president of sales at PM USA in 1990 and held a number of executive positions there before taking the reins as president and CEO of that company in 1997.
Szymanczyk also had extensive consumer products experience in sales and marketing at Procter & Gamble and Kraft. He earned a bachelor of science degree in finance from Indiana University.
Before getting the nod as incoming chairman and CEO, Barrington served as vice chairman of Altria Group, responsible for innovation, public affairs, human resources and compliance. He also serves as chief compliance officer. He joined Altria in 1993. His previous positions at the company include executive vice president, and chief compliance and administrative officer for Altria Group; general counsel and senior vice president for Philip Morris International; and general counsel and senior vice president for PM USA.
Prior to joining Altria, he practiced law in both the government and private sectors.
Beran currently serves as vice chairman of Altria Group, responsible for business operations. He leads Altria's efforts to meet its business and financial goals through his oversight of the tobacco subsidiaries PM USA, U.S. Smokeless Tobacco Co. and John Middleton; Altria Group Distribution Co.; and the wine subsidiary Ste. Michelle Wine Estates. He also leads the Procurement, Leaf and Information Services organizations at Altria Client Services.
He joined Altria in 1976. His previous positions at the company include executive vice president and chief financial officer for Altria; executive vice president and chief financial officer for PM USA; and executive vice president of finance, planning and information for PM USA.
These changes at the top come on the heels of a strong performance by Altria in the fourth quarter of 2011, and for the year overall.
"Altria delivered strong returns for its shareholders in 2011 in a challenging business environment, while taking steps to continue creating shareholder value into the future," Szymanczyk said in a conference call this morning. "Altria grew its redefined adjusted diluted [earnings per share] by 7.9 percent behind the strength of our tobacco and wine businesses."
He added that the tobacco giant outperformed the S&P 500 Index for the 12th consecutive year and delivered total shareholder return of 26.9 percent. In addition, Altria created shareholder value by repurchasing $1.3 billion of its shares in 2011, completing a $1.5-billion 2007 to 2011 cost reduction program and announcing a new cost reduction program for its tobacco and services companies in October, Szymanczyk explained.
In other notable news, Altria Client Services has entered into an agreement with Okono A/S to develop innovative, non-combustible, nicotine-containing products for adult tobacco consumers. Okono A/S is an affiliate of Fertin Pharma A/S, a global leader in the development and manufacturing of nicotine gum with additional capabilities in other products and technologies.
Looking toward this year, Altria forecasts that its 2012 full-year reported diluted earnings will be in the range of $2.14 to $2.20. 2012 full-year adjusted diluted earnings will be in the range of $2.17 to $2.23, representing a growth rate of 6 percent to 9 percent from an adjusted base of $2.05 in 2011.