Analyst: Couche-Tard Thwarted by Casey's Recapitalization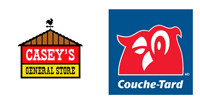 ANKENY, Iowa -- Alimentation Couche-Tard Inc.'s increased tender offer for Casey's General Stores Inc., based here, is garnering less support from shareholders, due to a "Dutch action" recapitalization plan unveiled by the Midwest retailer, The Wall Street Journal reported, citing an analyst who follows Couche-Tard.

As reported by CSNews Online yesterday, Couche-Tard extended its $36.75 per share tender offer to shareholders to Aug. 30, following the tendering of just 12 percent of Casey's shares. This compares with 19 percent of shares tendered as of July 12, when the bid was $36 a share.

The extension follows a recapitalization announcement by the board of Casey's General to purchase up to $500 million of stock at $38-$40 a share through a Dutch auction, the Journal reported.

The analyst told the paper Casey's shareholders are dealing with a different situation now because of the Dutch auction, which is a better deal than Couche-Tard's offer and is a source of the lower support for the $36.75 per share bid. The analyst does not believe Laval, Quebec-based Couche-Tard's pursuit of Casey's is done, but said there is uncertainty of the Canadian convenience store retailer's next actions.

"I think they're pretty adamant they want to have this asset," the analyst said in the report. "If it fails this time, they may come back at another point in time."

Officials from Couche-Tard couldn't immediately be reached by the Journal for comment.

Meanwhile, Casey's General issued a response to Couche-Tard's tender offer extension, stating: "The low -- and declining -- number of shares tendered clearly demonstrates that Casey's shareholders do not support Couche-Tard's inadequate, highly conditional $36.75 per share offer. We believe that our shareholders recognize the superior value we are creating through our continuing strong performance, strategic growth initiatives and highly accretive recapitalization plan."