Beverages Stand Out Among 2017's Top 10 Packaged Grocery Categories
Get great content like this right in your inbox.
Subscribe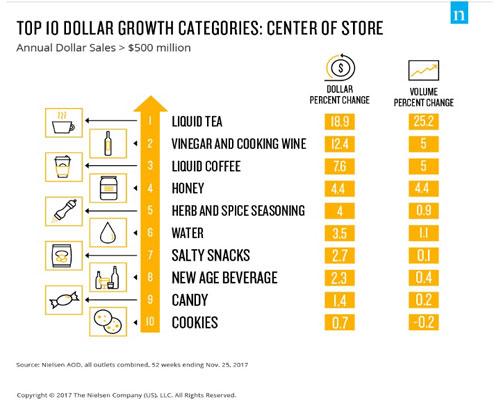 NEW YORK — Looking at the top 10 packaged grocery categories for the center store in 2017, beverages stand out from the rest when it comes to top dollar sales.
Nielsen found that for the second consecutive year, liquid tea (No. 1) led sales growth in the U.S., with liquid coffee (No. 3), water (No. 6) and new age beverages (No. 8) following right behind.
In 2016, ready-to-drink tea and coffee experienced tremendous sales growth at 19.5 percent and 14.6 percent, respectively, Nielsen reported. In the 52 weeks ending Nov. 25, 2017, liquid tea saw an 18.9-percent uptick in dollar sales, followed by liquid coffee at 7.6 percent, water at 3.5 percent and new age beverages at 2.3 percent.
The market research firm speculates that the continued growth could be because of the plethora of flavors and ingredients often found in these drinks that appeal to consumers who crave a variety of drinks for in-home consumption or on-the-go.
Rounding out the top 10 packaged grocery categories in the center store are vinegar and cooking wine (No. 2), honey (No. 4), and herb and spice seasoning (No. 5). Salty snacks take the No. 7 spot, while candy and cookies take the No. 9 and No. 10 spots, respectively.