Blockbuster Seeks New CEO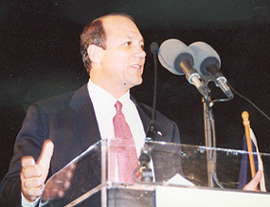 DALLAS -- Video rental firm Blockbuster Inc. has launched a search for a new CEO to replace Jim Keyes, a former 7-Eleven CEO, potentially before year's end, the Wall Street Journal reported.

Blockbuster hired executive search firm Korn/Ferry to look for candidates who could run the movie rental company once it emerges from Chapter 11 bankruptcy and push it further into digital businesses, the newspaper reported.

Keyes has led Blockbuster since 2007, and the company's board extended his contract by a year this summer, with the understanding that he will see through Blockbuster's debt restructuring and may then leave.

While Keyes remains a candidate to continue leading the company as the executive search is in its earliest stages, some creditors have been pushing for new blood, according to the Journal.

The paper also said Blockbuster's senior bondholders must approve the company's CEO choice by Dec. 31, as part of a restructuring deal the two sides negotiated before the company entered bankruptcy protection last month.