Bouncing Along the Bottom

A mid-year look at real estate prices for convenience stores across the United States shows no improvement so far in 2013. The average price of a convenience store at the end of June was $906,000, only 2 percent higher than 2012 and just 4 percent above the trough price of $871,000 in 2010.
Today, a recovery in commercial property prices is underway, led by multifamily and office, but the retail sector is lagging. CoStar's Commercial Repeat Sale Index (CCRSI) is one of the nation's broadest measures of repeat and resold commercial property prices. The CCRSI grew by 9 percent from the same period a year ago and is now up 41 percent from its trough in 2010. Net absorption of commercial space has improved and the percentage of distress sales is down, which points to commercial property pricing gains in the next few months.
The chart below shows retail property prices since 1998. Reaching a low in 2011, average retail property prices across the nation have not risen since.
U.S. Average Commercial Property Prices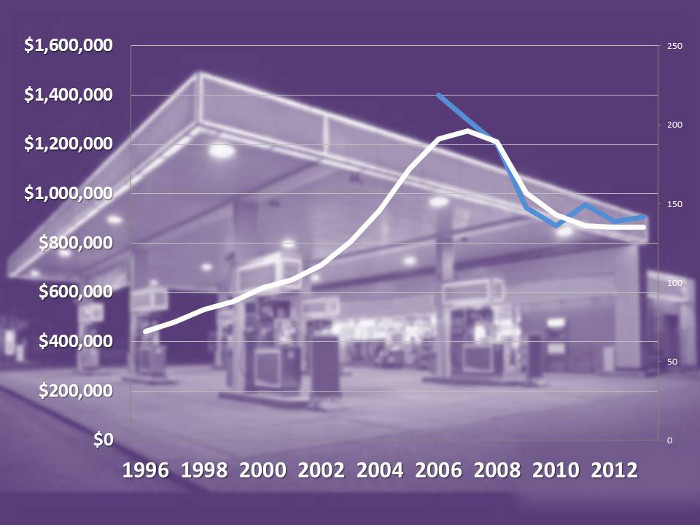 White line represents retail property; blue line represents convenience stores.
The lagging property prices in the retail sector (white line) reflect weak retail sales and an anemic economic recovery. Indeed, this chart clearly shows that the retail sector has had no economic recovery, at least as measured by property prices. Average convenience store prices across the U.S. are also plotted in this chart (blue line) and are following the same pattern as the larger retail sector.
The latest Convenience Store News Industry Report showed per-store pretax profits were up by 5 percent in 2012 over the previous year. Increased store profitability was led by higher in-store sales. In many ways, the trend in per-store pretax profits reflects the health of the convenience industry and is a leading indicator of the direction of convenience store property prices.
Per-store pretax profits have been increasing the last five years, even during the recession. So, we expect to see convenience store property prices move up soon -- let's hope so. For most c-stores, the real estate (site, store building and fuel service) makes up about 90 percent of the total assets of the business. For everyone owning a convenience store, price recovery is important.
At mid-2013, perhaps our industry can take heart in the accelerating property prices in the CCRSI. With the multifamily and office sectors now advancing, retail and convenience store property prices may not be far behind.
Robert E. Bainbridge is an author, instructor and expert witness in the appraisal and valuation of convenience stores and gas stations. He can be reached at [email protected] or (541) 823-0029. Find more valuation information at www.cstorevalue.com.
Editor's note: The opinions expressed in this column are the author's and do not necessarily reflect the views of Convenience Store News.