BP's ampm Rolls Out Hispanic Snacks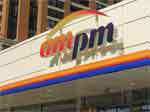 CHICAGO -- BP's ampm brand is going full out with a new line of proprietary Hispanic snacks. The snacks, which hit the shelves in several ampm markets earlier this year, debuted under the convenience store chain's El Mero brand.

"Hispanic consumers are looking for products with authentic flavors," said Bill Fry, president of BP's ampm franchise. "After testing products with more than 400 consumers, we selected their top three choices to launch our El Mero brand. Hispanic consumers have exhibited strong loyalty to the ampm brand, and we will continue to find ways to give them what they want."

The ampm stores are now selling El Mero Chili Mango fruit snacks, dried mango slices coated with a chili-sugar mixture; Garbanzos, crunchy garbanzo beans with chili powder and a touch of lime; and Churritos, chili-flavored corn snack sticks.

El Mero, which loosely means "the boss" in Spanish, is the latest Hispanic food offering at ampm stores. The chain carries a variety of authentic Hispanic bakery and burrito products.

"With El Mero, stores are getting a high-quality product that adds to our 'too much good stuff' offer for anyone who enjoys zesty snacks," Fry said.

The ampm brand was founded in 1978 in Southern California by ARCO. The brand became part of BP when BP acquired ARCO in 2000. ARCO-branded ampm stores are found in California, Nevada, Oregon, Washington and Arizona; BP-branded ampm stores are located in Chicago, Indianapolis, Pittsburgh, Orlando, Columbus, Cleveland, Cincinnati and Atlanta. There are more than 1,800 ampm stores in Brazil and Japan.