Burger King Offers Free Cup of Java Every Friday in November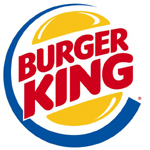 MIAMI -- Beginning today and every Friday during the month of November, Burger King Corp. is offering customers at its participating restaurants nationwide a free 12-ounce cup of Seattle's Best Coffee during breakfast hours, while supplies last.

"Our new breakfast lineup offers guests great taste, quality and variety, and Seattle's Best Coffee is at the heart of it," Mike Kappitt, chief marketing officer for North America, Burger King Corp., said in a released statement. "Hungry breakfast goers have already turned out in droves to try our new BK Breakfast Menu, and by offering free, high-quality coffee, we're giving them yet another reason to bite into breakfast at Burger King."

Customers enjoying their free cup of coffee will also receive a coupon good for one complimentary 22-ounce Iced Seattle's Best Coffee in either vanilla of mocha flavors, valid during a future visit and with the purchase of a BK Value Meal, the company stated.

The nationwide promotion will be supported by TV advertising, where lighthearted commercials will depict high-end coffee house employees in distress over losing their "regular" customers who are getting their coffee fix at Burger King restaurants instead.