Cargo Brings Its Rideshare Vending to the West Coast
Get great content like this right in your inbox.
Subscribe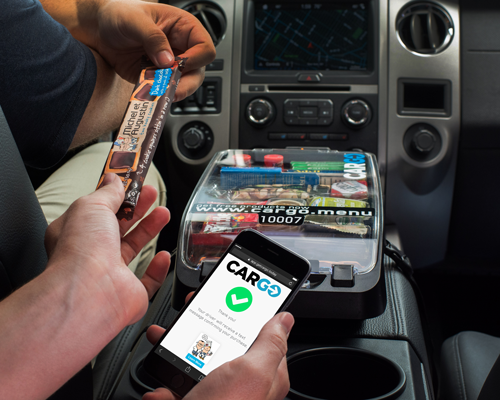 LOS ANGELES — Cargo, the New York-based startup that provides an in-car convenience store experience to rideshare vehicle users, is making its West Coast debut in Los Angeles, with collaborations with Snapchat and SnackNation.
Los Angeles passengers riding in Cargo-equipped rideshare cars can now use Snapchat to order a variety of products curated by SnackNation. Through the Snapchat app, they simply scan the snapcode printed on every Cargo box, see what the options are, and place their order.
"As we enter each new city, our mission is to tailor the Cargo experience and product selection to our riders' preferences," said Jeff Cripe, Cargo's CEO. "Snap is the ultimate L.A. success story. We're thrilled to offer an even more seamless way to order products using Snapchat and to provide them with the highest-quality, trending snacks by partnering with SnackNation."
SnackNation, an award-winning snack delivery service in its own right, is now Cargo's lead national distributor for healthy, premium and emerging products. Among the products in SnackNation's selection for Cargo's L.A. launch are Halfpops Simply Sea Salt Curiously Crunchy Popcorn, Nothing But The Fruit's Raspberry Chia Real Fruit Bites, and Yomms Coco Twist Deli Nuts.
"SnackNation is thrilled to be partnered with Cargo in their quest to elevate the ride-sharing experience for people across America," said SnackNation CEO Sean Kelly. "Cargo's in-car commerce platform provides an additional opportunity for our innovative brand partners to connect with key consumers at their most engaged moments. SnackNation brands, Cargo consumers and ride-sharing drivers all win thanks to this collaboration."
Earlier this year, Cargo celebrated its launch in Dallas with brand partners joyböl, FORTO and RXBAR. Through these partnerships, Cargo can provide the city's rideshare passengers with smoothie bowls, organic coffee shots, and whole food protein bars. In Dallas, passengers place a Cargo order through the company's mobile menu on their smartphones after entering their driver's box code. 
Cargo launched in June 2017, serving both the New York and Boston markets before expanding to Chicago in August of last year. In January, the company announced plans to have a presence in all of the top U.S. cities for ridesharing.