Cargo Eyes More Cities for Rideshare Vending Expansion
Get great content like this right in your inbox.
Subscribe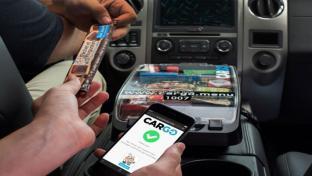 NEW YORK  — Cargo, the New York City-based tech startup that provides a convenient vending service to rideshare vehicle users, is expanding to more cities. 
Launched last June, Cargo sells snacks, personal care items and other products that one might be able to find in a convenience store from automated boxes located in rideshare vehicles. Any rideshare driver that qualifies can partner with the service and enable their passengers to use their phones to purchase the in-car sundries. Drivers make a small commission on any products sold. 
Earlier this week, Cargo announced that it will be branching out from its current markets — New York, Chicago and Boston — to have a presence in all of the top 10 U.S. cities for ridesharing. Judging by Uber's ride volume numbers, Indianapolis, Orlando and San Antonio could soon have Cargo partner drivers. 
Cargo's expansion plans come as the company celebrates reaching its millionth passenger and raising more money from investors. 
"This year is all about scale and taking what we've built and expanding it into other markets," Cargo founder and CEO Jeff Cripe told Xconomy. "We have more of a budget to test things that could be related to e-commerce or logistics, or pop-up Cargo booths if there's a consumer-facing or operational need. We've also toyed with the idea of vans tweeting their location so drivers can get replenished [supplies] on the go."
Cargo recently raised $5.5 million in investor funding, improving on the company's initial $1.75-million seed round. Kellogg's venture capital fund eighteen94 capital is among those backing the company.
Kellogg, in addition to other familiar names in convenience retailing like Mars Wrigley and Red Bull, are Cargo customers, using the startup as a marketing and distribution tool. By providing free products to Cargo, the consumer packaged goods companies (CPGs) are able to collect data about their products and the passengers who are purchasing them. 
"Cargo represents eighteen94 capital fund's first channel investment. We see huge potential in the new consumer touchpoint within the passenger economy that Cargo is developing," Simon Burton, managing director of eighteen94 capital, explained in a statement. "Cargo provides brands with innovative opportunities to connect to the consumer in their moment of need."
Cargo CEO Cripe believes his company's mobile vending service provides a boon to CPG companies looking to stay ahead of the curve as people's purchasing patterns change, along with how they get from A to B. 
"As we shift toward an economy based on ridesharing and autonomy, people are going to go to gas stations less and less," Cripe says. "We offer a way for these companies to hedge their bets with a new distribution channel."