Casey's Confirms Annual Meeting, Couche-Tard Retorts With Accusations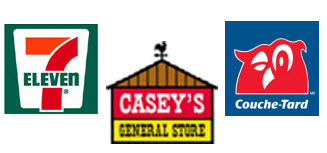 ANKENY, Iowa -- Casey's General Stores Inc. yesterday confirmed the company's annual meeting of shareholders will be held as scheduled Sept. 23, 2010.

It also noted the convenience store chain remains in discussions with 7-Eleven Inc. regarding a potential transaction, but does not expect the outcome of the discussions to be determined prior to its annual meeting. Casey's also noted it does not believe delaying the meeting is in the best interests of shareholders, an action suggested to it by Alimentation Couche-Tard Inc., which is in the midst of a hostile takeover of the company.

As part of the annual shareholders meeting, Casey's directors are up for reelection, and face a full slate of independent directors nominated by Couche-Tard. Casey's also urged shareholders to vote using the white proxy card for all of Casey's incumbent director nominees at the annual meeting.

In response, Couche-Tard issued a statement accusing Casey's of failing to announce any concrete developments relating to its transaction discussions with 7-Eleven. Couche-Tard noted the current difference in price between its offer and 7-Eleven's offer is 4 percent, and yet, "Casey's board has authorized discussions to explore a transaction with 7-Eleven while rejecting our request to be included in a full and fair process."

The statement continued, with Couche-Tard challenging, on behalf of the Casey's shareholders, the Casey's board and management to "immediately disclose the terms and conditions of 7-Eleven's current proposal. In the face of this challenge, Casey's reluctance to disclose any such terms and conditions can only lead to the inference that Casey's disclosure of 7-Eleven's preliminary, non-binding indication of interest was a smokescreen designed by Casey's to obtain votes in favor of its incumbent directors by hinting at a potential transaction on the eve of the annual meeting without the intention of pursuing any transaction that would be contrary to promoting their self-interest."

Couche-Tard also called out Casey's for allegedly leaving out information relating to a Sept. 15, 2010 ISS report regarding the reelection Casey's board members. According to Couche-Tard, that report urged Casey's shareholders to show discontent with the Casey's board by recommending that the shareholders of Casey's withhold their votes from Casey's lead independent director William C. Kimball, and executive committee member Kenneth H. Haynie.

Couche-Tard added: "We are also pleased that ISS endorsed Couche-Tard's request to delay the upcoming annual meeting by two to three weeks to allow Casey's to complete a full and fair sale process and report the results of such process to its shareholders prior to the annual meeting. As ISS notes, and we agree, shareholders of Casey's have had very little visibility with respect to the two competing bids involving a strategic transaction and Casey's has failed to provide a compelling reason in support of its decision not to delay the annual meeting until the shareholders of Casey's are able to gain better visibility."

Concluding its statement, Couche-Tard urged Casey's shareholders to elect its nominees to Casey's board. It also noted if shareholders of Casey's do not support Couche-Tard's full slate of nominees, at least to nominate three of Couche-Tard's nominees to "send a clear message to the Casey's board that the shareholders of Casey's expect the Casey's board to conduct a fair and full sale process designed to maximize value for all of the shareholders of Casey's and ultimately place the decision regarding the future of Casey's in the hands of the shareholders of Casey's."

In other Casey's news, the retailer signed a deal with West Des Moines, Iowa-based ShortStop convenience stores to buy all six ShortStop locations, the Des Moines Register reported. The deal, announced by ShortStop owner Dave Carpenter, is expected to be finalized next month. No purchase price was announced.

Bill Walljasper, senior vice president and chief financial officer for Casey's, said in the report his company will immediately rebrand them as Casey's locations, including the Ankeny ShortStop, which sits roughly a block away from an existing Casey's that has no immediate plans to close.

The mostly urban purchases would be an atypical move for Casey's, which built its 1,533-store chain mostly with rural Midwestern locations, the newspaper reported.

Carpenter, the third generation to run his family's petroleum business that began in 1935, opened the first ShortStop in 2001. Other locations were added in Des Moines, West Des Moines, Coralville and Marion, but recently it had a difficult time finding suitable locations to expand, according to the report. "There's limited growth potential for someone my size in Des Moines," Carpenter told the paper. "We need to grow, and with the elephants that roam around us, it's been really difficult."

Carpenter said a strategic review of his firm led to the decision that J.D. Carpenter Cos. Inc. might be more successful in an area where the competition for high-traffic real estate isn't as intense, the report stated.

"It's kind of a strategic decision," Carpenter said. "There has to be a point where you realize you're just not going to get where you need to be." Carpenter noted all six stores remain profitable. "I could say, 'I'm comfortable just operating six stores.' It does work. It works for us now. That's just not what I want to do."

Carpenter, who will retain the rights to the ShortStop concept, plans to continue living in Iowa and has not yet decided where to launch his next venture. Possibilities range from building new ShortStops to buying an existing small chain in another state, according to the report.

"I'm planning on staying in the business," he said. "I'm just going to look for another place to do it."

Meanwhile, Casey's also opened a new Pittsburg, Kan., store Friday, complete with a grand opening celebration and ribbon cutting, the MorningSun.net reported.

The new Casey's store is nearly twice the size of the company's typical convenience stores, with an expanded pizza kitchen and sub sandwich shop; a gourmet coffee and pastry counter; a wood-paneled interior; sitting area; larger restrooms; and a spacious fuel plaza.

"The store is far more advanced," store manager Jeremy Noble said in the report. "There's great customer service, and there are far more options as a far as food."