10/25/2011
Casey's Converting Stores to 24/7 Operations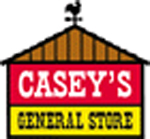 ANKENY, Iowa -- For decades, 24/7 operations were not even on the table at Casey's General Stores. But that has all changed, as now approximately 160 of the convenience store chain's 1,671 locations are open around the clock.
According to the Des Moines Register.com, Casey's co-founders Donald Lamberti and K.C. Fish were opposed to 24-hour operations. That policy remained in place until 2007 when Casey's acquired 33 stores from Handimart, a Cedar Rapids, Iowa-based chain. At the time of the acquisition, many Handimart locations were already operating 24 hours, so the company continued those hours after rebranding the stores to Casey's.
Casey's then continued the trend when it brought other 24-hour stores into the company's portfolio. About six stores in the Des Moines area never shut their doors, and Casey's vice president of finance Brian Johnson told the news outlet that the convenience store operator is considering additional conversions.
Johnson said Casey's converted another 80 stores to 24-hour operations about a year ago as a test, which has worked well enough that the chain is now considering a second round of conversions. To date, most 24-hour stores are in metropolitan areas or adjacent to interstate highways, such as stores in Newton, Story City and Osceola, Iowa, he noted.