Category Sales Rise at Casey's General Stores in Q1 2019
Get great content like this right in your inbox.
Subscribe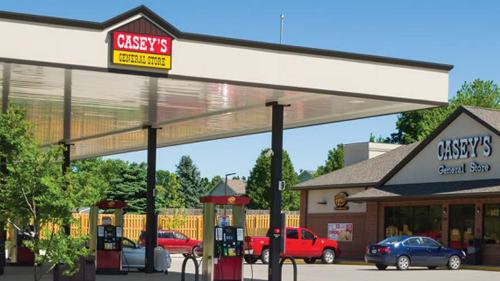 ANKENY, Iowa — The first quarter of its fiscal year 2019 brought stronger fuel margins, more locations, and an uptick in same-store sales for Casey's General Stores Inc.
According to the company's results, total revenue in the quarter was up 23.6 percent to $2.6 billion, primarily due to rising retail fuel prices and an increase in the number of stores in operation. Casey's presented its Q1 2019 results during an earnings call on Sept. 11.
Categories Up-Close
Fuel
"In the fuel category, we continue to build out our team in preparation for the launch of our formal price optimization initiative," said President and CEO Terry Handley. "In the interim, the fuel team has been in close coordination with our store operations team to take a more proactive approach to our retail fuel pricing strategy."
Thanks to this increased focus, Casey's saw a higher average fuel margin of 20.5 cents per gallon for the quarter. It also notched a 13.1-percent increase in gross profit dollars from the fuel category.
Same-store gallons were up 0.5 percent, with total gallons sold for the quarter up 6.5 percent to nearly 602 million, primarily due to the strong contribution of recent new stores, acquisitions and store replacements.
The average retail price of fuel during the quarter was up nearly 27 percent to $2.74 a gallon.
Grocery & Other Merchandise
In its grocery and other merchandise category, Casey's sales were up nearly 8 percent to $644.8 million in the quarter. Same-store sales were up 3.2 percent during the period, slightly above the retailer's annual guidance.
Packaged beverages exceeded expectations and cigarettes performed well, according to Handley.
The average margin in the category during the quarter was up 50 basis points compared to a year ago, reaching 32.4 percent, primarily due to a product mix shift to higher margin items. As a result of the favorable product mix and increased sales, gross profit dollars in the category were up almost 10 percent to $208.9 million for the quarter.
Prepared Food & Fountain
Moving to foodservice, prepared food and fountain drink sales were up 7.3 percent to nearly $281 million for Q1 2019. Same-store sales were up 1.7 percent. Prepared food and fountain gross profit dollars rose nearly 6.4 percent to $174.2 million in the quarter.
"The average margin for the quarter was 62 percent, down 50 basis points from the first quarter last year, primarily due to increased promotional activity — including additional promotions around our 50th anniversary celebration," Handley reported. "Even though our margin was down compared to last year in the first quarter, we maintained a margin at the high end of our annual guidance."
One area of increased promotion has been around Casey's pizza program, as the retailer faces increased competition.
"In terms of the pizza promotion strategy, it certainly remains a very competitive market. It is very obvious to us that we need to be in that game," Handley explained.
To that end, customers can expect to see single-topping promotions and two-for pricing moves. Casey's may offer deals on its higher-value pizzas as well, the CEO added.
"I think the bigger thing here is taking the opportunity to understand where we can get some leverage in our morning daypart and in our noon daypart with sandwiches and breakfast pizza combos," Handley said. "But certainly, the single-topping promotions and two-for pricing will continue to be a strategy as we work very hard to regain that market share.
"That's the competitive environment we are in today, not only with the major pizza brands, but also with the major QSRs [quick-service restaurants] and even some of our fast-casual competition," the chief executive said. "It continues to be a very competitive area with regard to promotional activity. We are going to have to continue to refine that strategy, and I know that the marketing and foodservice teams are doing that as we speak. We'll continue to work very hard to drive those sales."
Unit Growth
Also a contributing factor to Casey's first-quarter results was the addition of 105 convenience stores year over year. 
"Our target this fiscal year is to build 60 stores and acquire at least 20 additional stores. This quarter, we opened 15 new store constructions, acquired one store and have 14 additional stores under agreement to purchase," Handley detailed.
"You should expect a relatively even distribution of new store openings this fiscal year due to the efforts of our store development team over the past two years," he added.
Currently, Casey's has 103 sites under agreement for new store construction, and the retailer is on track to achieve its unit growth target, Handley said.
"We believe we are positioned very well for future growth," he remarked. 
As for growth through acquisition, Chief Financial Officer Bill Walljasper called the convenience channel's merger and acquisition environment "robust."
"In my time as CFO, which is probably 15 to 16 years now, this is probably one of the years where I've seen more conversations with opportunities," he stated.
"That doesn't necessarily mean it is going to translate into acquisition deals. We are still a very prudent buyer, a very disciplined buyer, and we are not going to go out and purchase a bunch of stores to tell people we grew the units," he explained.
Walljasper noted an uptick in conversations as time passes from the recent tax reform. "I think as we get some distance behind tax reform — where I do believe there was a pause in acquisition activity — I think people are willing to have conversations about selling their business," he said. "We're encouraged by that and, certainly, I think we are in a good position to take advantage of those things."
Ankeny-based Casey's General Stores operated 2,085 convenience stores in 15 states as of July 31.