CEFCO Signs Multi-Unit Deal With Huddle House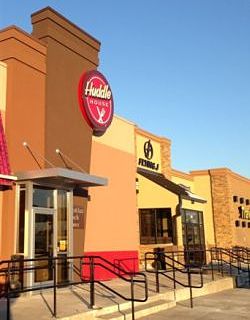 ATLANTA -- Starting next year, Huddle House customers in Texas will be able to shop and dine conveniently thanks to an agreement with CEFCO Convenience Stores.
Huddle House is embarking on an aggressive expansion plan which calls for 100 more locations in the next five years. According to a press release issued by the restaurant chain, CEFCO will build two sites. They are slated to open in spring 2013 in Mt. Vernon and Jarrell, Texas.
"Expanding our restaurants into non-traditional locations supports our growth strategy, which targets unique real estate opportunities, such as convenience stores, truck stops and travel centers to expand our customer base," said Michael Abt, CEO of Huddle House. "We are pleased to announce the signing of these initial two locations as it will further the brand's growing presence and awareness throughout the state of Texas."
Abt's enthusiasm was shared by Brett Giesick, chief retail officer of CEFCO.
"CEFCO has a long history of taking care of our customers with outstanding service, clean facilities, best-in-class restrooms, great products and a commitment to the communities we serve," said Giesick. "We are just as committed toward providing these same levels of execution to our Huddle House guests."
Huddle House is known for its slogan, "Any Meal. Any Time." The franchise has more than 400 units in 21 states, primarily in the Southeast, Midwest and Southwest. Texas-based CEFCO currently operates 254 c-stores in seven southern states.