Change in Leadership at PepsiCo as CEO Nooyi Announces Retirement
Get great content like this right in your inbox.
Subscribe
PURCHASE, N.Y. — PepsiCo Inc. will see a change in leadership this fall when CEO Indra K. Nooyi retires on Oct. 3. She will remain chair of the company's board of directors until early next year.
The board unanimously elected President Ramon Laguarta to succeed Nooyi as CEO, effective Oct. 3. He has served as president since September.
Nooyi has 24 years' experience at PepsiCo, serving as CEO for the past 12 years. Under her leadership, the company delivered several strong results, including:
Total 

shareholder return of 162 percent from Dec. 31, 2006 through Dec. 31, 2017;

Total cash returned to shareholders through dividends and share repurchases of $79.4 billion since the beginning of 2006 through the end of 2017;

Dividends per share nearly tripled from $1.16 in 2006 to $3.17 in 2017, a compound annual growth rate of nearly 10 percent; and

Net revenue growth from $35 billion in 2006 to $63.5 billion in 2017, a compound annual growth rate of 5.5 percent.
"Leading PepsiCo has truly been the honor of my lifetime, and I'm incredibly proud of all we have done over the past 12 years to advance the interests not only of shareholders, but all our stakeholders in the communities we serve," Nooyi said.
"Growing up in India, I never imagined I'd have the opportunity to lead such an extraordinary company. Guided by our philosophy of Performance with Purpose — delivering sustained performance while making more nutritious products, limiting our environmental footprint and lifting up all the communities we serve — we've made a more meaningful impact in people's lives than I ever dreamed possible. PepsiCo today is in a strong position for continued growth with its brightest days still ahead," she added.
Speaking on behalf of PepsiCo's board, presiding director Ian Cook said Nooyi provided outstanding leadership over the past 12 years, serving as a model both within the industry and beyond for responsible corporate stewardship in the 21st century.
"She has delivered strong and consistent financial performance, managing with an eye toward not only the short-run, but the long-run as well. As CEO, she grew revenue more than 80 percent, outperforming our peers and adding a new billion-dollar brand almost every other year," Cook explained.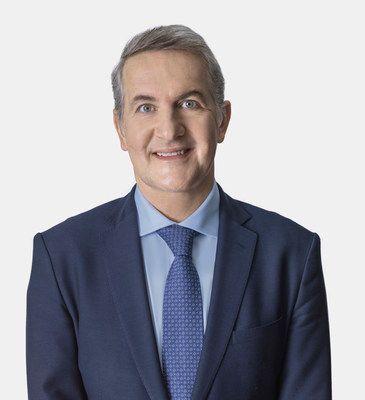 New CEO
Nooyi said Laguarta is the right person to build on the company's success — pointing to his "deep understanding of the changing preferences of consumers and other critical trends unfolding around the world."
Laguarta has held a number of executive and general management roles in his 22 years at PepsiCo. He will become the sixth CEO in PepsiCo's 53-year history, all whom have been appointed from within the organization.
Since September, Laguarta has served as president of PepsiCo, overseeing global operations, corporate strategy, public policy and government affairs.
Previously, he served as CEO, Europe Sub-Saharan Africa. Prior to that, he served as President, PepsiCo Eastern Europe region and served in a variety of sales, marketing and other commercial roles across Europe.
"Ramon is a strong and proven executive with an outstanding track record growing organically and by acquisition some of PepsiCo's largest and most important international businesses," said Daniel Vasella, chairman of the board's Nominating and Corporate Governance Committee.
"He keenly understands the evolving needs of consumers and customers and the trends affecting our business in markets around the world. He will bring the depth of experience and innovative thinking that has powered his previous achievements as he is inheriting a well- positioned company poised to continue delivering top-tier performance," Vasella added.
Purchase-based PepsiCo generated more than $63 billion in net revenue in 2017, driven by a food and beverage portfolio that includes Frito-Lay, Gatorade, Pepsi-Cola, Quaker and Tropicana. PepsiCo's product portfolio includes a wide range of foods and beverages, including 22 brands that generate more than $1 billion each in estimated annual retail sales.