Chevron Going the Distance With ExtraMile
SAN RAMON, Calif. -- Chevron Corp.'s ExtraMile brand is growing. The company will increase its franchised store count from 271 to 400 by the end of next year, adding at least 60 new locations this year alone, and is expanding its offerings inside the stores as well. More than 200 Blockbuster kiosks are hitting ExtraMile stores this year, and the chain recently added Starbucks' Seattle's Best Coffee brand to its locations.
"We have a number of things planned this year and are focused on our destination categories," Ian Noble, manager of franchise district sales at Chevron ExtraMile, based in San Ramon, Calif., told CSNews Online. These categories include HydraZone, cigarettes, coffee and foodservice. "There will be a lot of expansion in the next year, including footprint expansion and growth of the network."
Currently, Chevron ExtraMile has 550 convenience stores -- half company-operated and half franchised. While the goal is to expand the franchise side, Chevron is still committed to the company-operated locations and will continue adding a few corporate stores each year, according to Noble.
"Our company-operated stores keep us connected to our customers, and it's how we gather data to share across the franchise network," he explained. "We offer a lot of buying programs from different wholesalers and direct suppliers, and our people are buying on behalf of the whole network."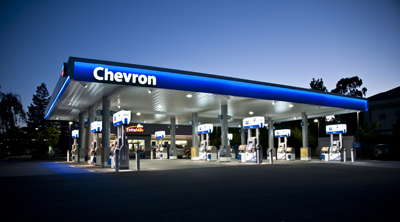 ExtraMile locations are located throughout Washington, Oregon and California, and these are the states that will see further growth. The new locations will either be dealers that already offer Chevron gasoline and are looking to convert their retail stores, or operators new to the brand.
"Many franchise operators are coming to us because we can add a new level of capabilities to their operation," Noble said. "We can provide cost efficiencies, help with planogramming and training, and offer field consultants to help them identify opportunities. We also do all the marketing to the consumers."
Inside the store, the company is constantly looking to innovate based on customer feedback and trends in the marketplace. The addition of the Blockbuster kiosks is one example and so far, 140 kiosks have been deployed -- 65 in company-operated locations and 75 in franchised stores. Noble sees this as another reason to drive customers to the sites.
"It's gone very well for us and complements the fast and convenient one-stop shopping," he noted. "We are constantly updating programs and evolving."
For example, in the HydraZone section of its stores, the retailer focused on the top-selling energy drinks when it first launched, but has evolved over time. Now, the focus is on a variety of waters and other areas where beverages are growing, said Noble.
The recent addition of Starbucks' Seattle's Best Coffee is another example of innovation. A 20-ounce cup of coffee will be offered for $1.56 at Chevron's ExtraMile stores, compared to the $1.86 it would cost a customer at a Seattle's Best retail store. Also, the same size of coffee at a Starbucks store is $1.95.