02/08/2021
Circle K Charged Up for Electric Vehicle Adoption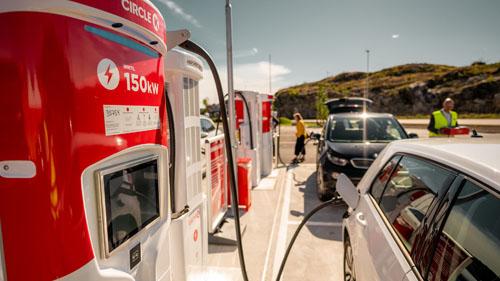 LAVAL, Quebec — Actor Will Ferrell may not be a fan of Norway, but Alimentation Couche-Tard Inc. feels differently.
Leading up to Super Bowl LV on Feb. 7, General Motors launched an electrical vehicle (EV) campaign where Ferrell attacks Norway for being ahead on EVs. Circle K responded with its own campaign "We're ready" where Norsemen-actress Silje Torp Færavaag and its own employees play leading roles.
Couche-Tard and its global brand, Circle K, lead the way for EV charging offers in Norway. The convenience store banner has more charging stations, and home and office charging solutions than any other fuel retailer in Norway.
For the last three years, Norway has been home to the company's global EV lab, where a dedicated team is learning all it can about EV charging and building a more sustainable future. Starting this year, Circle K is bringing those learnings to North America, and plans to be ready as EV adoption grows among motorists.
"We are very pleased to have started our journey in Norway, where Circle K is the number one destination for EV customers. We are meeting those customers at our stores and in their homes and offices, creating a total solution for their charging needs," said President and CEO Brian Hannasch.
"With our great team, growing expertise, and progressive locations in Norway, we have learned so much in the last few years, and we are excited to bring that knowledge and solutions to our global network, including North America, over the coming months and years," he added.
Circle K operates a high-speed charging network with more than 500 chargers on its forecourts in Norway. The chargers are a combination of company-owned high-speed EV chargers and partner charging offers with Tesla and Ionity.
At its busiest Norwegian Circle K highway locations, the sites are equipped with 20 to 40 high-speed chargers. In downtown Oslo, Circle K was the first to begin replacing fuel pumps with high-speed chargers. Circle K has also expanded its offer with more than 4,200 home and workplace charge points.
Couche-Tard will start to roll out EV charging solutions at North America locations, beginning in its Quebec and California markets, with a combination of Circle K branded chargers and partner charging solutions in the coming months, as Convenience Store News previously reported.
"At our EV lab in Norway, our dedicated teams have gained years of experience in the most mature market for electric vehicles. We always want to offer our customers the best possible experience, and Norway provides us the perfect testing conditions for first generation EV technology including chargers, vehicles, and payment methods," said Hans-Olav Høidahl, Couche-Tard's executive vice president, Operations Europe.
"I'm proud that Norwegians see Circle K as the leading destination for EV charging, and I look forward to expanding our network of high-speed chargers and home charging solutions outside Norway over the coming months and years," he added.
As of Oct. 11, 2020, Laval-based Couche-Tard's network comprised 9,261 convenience stores throughout North America. Its North American network consists of 18 business units, including 14 in the United States covering 47 states and four in Canada covering all 10 provinces. In Europe, Couche-Tard's network comprised 2,722 stores across Scandinavia, Ireland, Poland, the Baltics and Russia through 10 business units.
In addition, under licensing agreements, more than 2,220 stores were operated under the Circle K banner in 15 other countries and territories, which brings the worldwide total network to more than 14,200 stores.