Circle K Offers Gas for Guns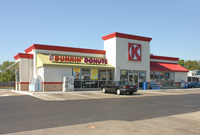 EAST BATON ROUGE, La. -- Circle K convenience stores here, along with the mayor's office and law enforcement agencies, are teaming up to curb violent crime in the city by trading firearms for fuel, according to a report by The Daily Reveille.

East Baton Rouge Mayor-President Kip Holden announced Monday the "Gas for Guns" program, which provides Circle K gas cards worth $50 to $200 in exchange for unsecured guns, with no questions asked, the report stated.

"Unsecured guns can pose a real danger to the entire community," Holden said in a news release cited by the paper. "Every year crimes are committed with unsecured guns that have been stolen or used without the owners' permission."

Through the program, higher value cards are given for bigger guns. A handgun smaller than .380 caliber is worth $50, a .380 caliber or larger gun is worth $100 and an "assault style" rifle is worth $200, the report stated.

The city is offering a total of $400,000 worth in gas cards, using funds provided by a donation from Circle K and matching state funds from police drug and asset seizures. Officers will accept the guns without asking for names or how the weapons were acquired, and there is a two-gun maximum.

The guns can be traded in on Oct. 23, at four local churches: Greater Beech Grove Baptist Church, Mt. Zion First Baptist Church, Greater Sixty Aid Baptist Church and Healing Place Church. The program will run from 10 a.m. to 2 p.m. or until the cards run out.

"Getting illegal guns off the street is one step our community can take together to reduce violent crime in Baton Rouge," District Attorney Hillar Moore said in the release cited by the paper. "Programs like this have been highly successful in other cities, and we hope anyone with an unsecured weapon will take advantage of this opportunity to turn it in."