CITGO Hosts First National STEM Day Celebration
Get great content like this right in your inbox.
Subscribe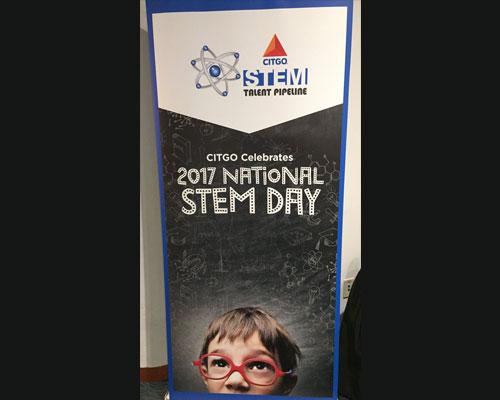 HOUSTON — CITGO Petroleum Corp. hosted its first-annual National STEM Day Celebration on Nov. 8.
The event honored the science, technology, engineering and math (STEM) community and to draw attention to the progress made in the advancement of STEM education, the company stated.
The National STEM Day celebration took place at the West Houston Institute, where CITGO revealed the STEM Teacher of the Year and announced the 2017 STEM Talent Pipeline Grantees. Grants recognize teachers, classrooms and schools in the Alief, Houston and Spring Branch, Texas, Independent School Districts offering innovative STEM programming.
"The development of STEM education is a core priority of ours, and we are thrilled to honor those who devote their lives to inspiring children to pursue this important career path," said CITGO Acting President and CEO José Pereira. "Nearly all of the fastest growing jobs projected by the U.S. Department of Labor are STEM-related. We hope that by spreading early interest among children, we can help lead them to success later in life."
Additionally, the event touted innovations produced by STEM, including Sub Zero Nitrogen Ice Cream and Joppa the Robot, who co-emceed the evening with KHOU 11 News at Noon Anchor Shern-Min Chow. Joppa the Robot was created by the first robot rental company in the world and is one of five robots of its kind in the United States. Attendees also enjoyed hands-on STEM activities and live demonstrations provided by CITGO partners such as GirlStart, the National Energy Education Department and Ocean Exploration Trust.
CITGO celebrated National STEM Day beyond Houston. Each CITGO refinery hosted its own event to spread the importance of STEM to students in their local communities. Here is a breakdown:
The Lemont Refinery in Texas welcomed educators, elected officials and students to Lockport Township High School East Campus, where students had the opportunity to experience the school's CITGO Learning & Innovation Lab.
The Lake Charles Refinery in Louisiana hosted a friendly competition known as the CITGO/MSU College of Engineering Design Challenge between local Engineering is Elementary schools.
The Corpus Christi Refinery in Texas invited local students and teachers to celebrate STEM at the CITGO Skyline Venue inside the Texas State Aquarium with interactive activities and presentations.
CITGO launched the CITGO STEM Talent Pipeline program in 2016. This initiative partners with educational organizations near the company's operational areas to increase access to educational opportunities in STEM. 
The initiative provides grants to schools and educational organizations to support programs that increase student interest, retention and graduation rates — particularly at the high school and post-secondary levels — and those that prepare students for STEM technical and university level curriculum. The program also provides scholarships for students pursuing higher degrees in STEM fields. 
To date, the CITGO STEM Talent Pipeline has already benefited more than 3,000 students and 300 educators across the CITGO operational footprint.
Based in Houston, CITGO is a refiner, transporter and marketer of transportation fuels, lubricants, petrochemicals and other industrial products. The company is owned by CITGO Holding Inc., an indirect wholly owned subsidiary of Petróleos de Venezuela, S.A.