Community Service Spotlight: C-store Retailers & Suppliers Add More COVID-19 Relief Efforts
Get great content like this right in your inbox.
Subscribe
NATIONAL REPORT — As the COVID-19 pandemic continues to disrupt every area of modern-day life, convenience store retailers and suppliers know that giving back through community service efforts and charitable donations is a positive force that will keep the channel moving forward.
In this special edition of Community Service Spotlight, Convenience Store News highlights these philanthropic efforts. Here are the latest company spotlights:
BP
To support first responders, doctors, nurses and medical workers, BP is offering a discount of up to 15 cents per gallon on every fill up at BP and Amoco stations for 60 days. Program sign up is available through bp.com/localheroes and rewards can be used at the pump with the BPme app for no-contact payment.
"Healthcare workers are saving lives every day across America and bp wants to thank them by helping to get them where they need to be," said Nicola Buck, head of marketing, BP. "The response to our earlier offer was overwhelming and we're proud to continue supporting our community heroes through this pandemic."
The offer is in addition to the more than $8 million in fuel discounts issued by BP since April to 650,000 responders and medical workers, and builds on the company's donation of 3 million gallons of jet fuel to ensure personal protective equipment and other essential goods are delivered efficiently to U.S. communities.
CITGO Petroleum Corp.
In an effort to assist vulnerable communities cope with the COVID-19 pandemic, the Simón Bolívar Foundation, the nonprofit, private foundation of CITGO Petroleum, is launching a food drive program called "Hoy Invita Simón," an initiative that will provide grants of up to $50,000 on a rolling basis to qualified nonprofits to develop food assistance projects.
The objective of "Hoy Invita Simón" is to offer nutritional food access to communities in need without discrimination, while aiming to reach members of the Venezuelan diaspora and other vulnerable populations, according to the company.
Online applications for the "Hoy Invita Simón" program opened June 19 and closed July 3. Qualified 501(c)(3) charitable organizations were invited to present proposals that could range from a one-day food drive to a multi-week food supply program to families in need. Grantees will be selected through a review process based on their potential community impact, cost-effectiveness, and implementation plan among other criteria. 
A pilot run for "Hoy Invita Simón" was conducted during the last week of May in two cities in the United States with a significant presence of the Venezuelan diaspora: Doral, Fla., and Houston. 
"The Foundation partnered with local nonprofits and Venezuelan restaurants to provide hot meals to families impacted by the pandemic," said Mariela Poleo, president of the Simón Bolívar Foundation. The success of the pilot program confirmed the need for this type of initiative to help the Venezuelan diaspora in the United States "because the response was strong and immediate. We quickly worked to create the framework to accommodate an open call to more organizations interested in developing similar efforts in more cities."
Clif Bar & Co.
Clif Bar's CLIF, CLIF Kid and LUNA Bar donations now total 14 million bars in an additional wave of donations to help feed families most affected by food scarcity exacerbated by COVID-19. The company is also doubling its previous seven million bar donation that went to frontline health care workers and first responders, and is distributing another seven million bars to food banks and community organizations that reach U.S. counties most in need this summer.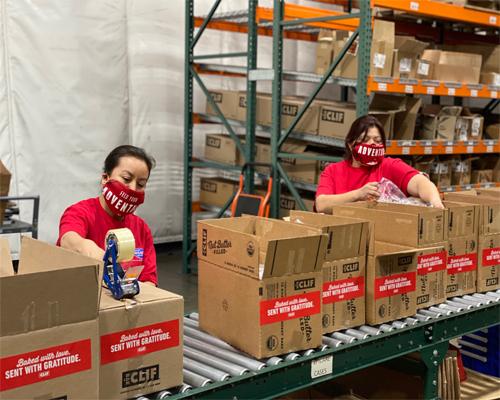 Donation recipients for the additional 7 million bars will include both local and national organizations, including:
California Governor's Office of Emergency Services

Stephen and Ayesha Curry's Eat. Learn. Play. Foundation (Oakland, Calif.)

Oakland Unified School District (Calif.)

The Store (Nashville, Tenn.)

Children's Miracle Network Hospitals

FoodLink of Tulare County

Food banks in up to 25 states targeting lower-income communities that also face high unemployment and homelessness.

Food banks near Clif Bar & Co.'s headquarters in the San Francisco Bay area, where many agricultural workers reside, and near its bakeries in Indianapolis, Ind., and Twin Falls, Idaho.
"We know that for many kids, the best or only meal they get each day is at school," said Clif Bar CEO Sally Grimes. "Since most schools haven't been in session for months, helping families who are facing food scarcity is an even greater need this year. As a company guided by Five Aspirations, Clif Bar is committed to sustaining our communities and the people within them."
Additionally, Clif Bar is also opening its employee café at its headquarters in Emeryville to make up to 450 meals per week that will be distributed to volunteers serving the Oakland Unified School District.
Dash In Convenience Stores
Dash In, a Wills Group company, delivered more than 2,500 personal messages and snacks to healthcare and first responder organizations across Delaware, Maryland and Virginia through its Snack-O-Gram program.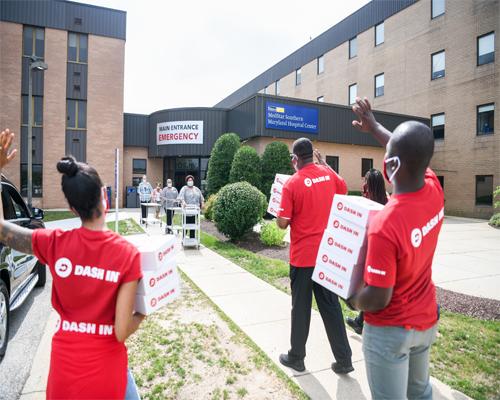 The Dash In Snack-O-Gram program was created to show appreciation for local heroes who are keeping communities healthy and safe during the coronavirus pandemic. Through the month of May, Dash In customers were invited to participate in the Snack-O-Gram program by visiting dashin.com, selecting a snack, and writing a note of appreciation for healthcare professionals and first responders.
"We at Dash In are so grateful for the commitment of healthcare professionals and first responders across the Mid-Atlantic region," said Darleen Nascimento, executive director of brand marketing and customer experience for Dash In. "Our goal with the Snack-O-Gram program was simple: bring our neighbors and neighborhoods together by providing those at home an opportunity to lift up and celebrate the bravery of our local healthcare professionals and first responders with a delicious snack and word of encouragement."
On June 23, Dash In team members hand-delivered Snack-O-Grams to the following healthcare and first responder organizations:
Delaware: ChristinaCare Hospital and Christiana Fire Company Station 12

Maryland: UM Baltimore Washington Medical Center, Branchville Volunteer Fire Department, Hillandale Volunteer Fire Department Station 12, Holy Cross Health Center, and Woodland Beach Volunteer Fire Department

Virginia: Chesterfield County Fire Station 16 and Henrico Doctors HCA Hospital 
In addition to the Snack-O-Gram program, earlier this year, Dash In also showed its appreciation for local heroes with a free breakfast sandwich offer. All healthcare professionals and first responders who visited any Dash In store across the Mid-Atlantic region between April 27 and May 3 received a free breakfast sandwich from Dash In's Craveable menu.
ExxonMobil
Six ExxonMobil branded wholesalers across Louisiana donated $13,000 in gas gift cars to healthcare workers. This builds upon the company's support of 60,000 gallons of fuel for emergency response vehicles, as well as gift cars to hospital workers in Baton Rouge.
"We are thankful for the dedicated healthcare workers and hospital staff who continue to assist those in need, and we are proud of the efforts by our branded wholesalers to support them as they serve our communities during this challenging time," said Bill Graham, ExxonMobil fuels area manager for the Southeast.
ExxonMobil branded wholesalers in Louisiana have made the following donations:
Brother's Petroleum donated gas gift cards to the Oschner Health Center in Marrero. All 44 Brother's Food Mart locations in the New Orleans area are also giving out free two-piece chicken dinners to medical workers who show their ID in store.

Lard Oil donated gas gift cards to Our Lady of the Lake in Walker and North Oaks Hospital in Hammond. It also donated phone chargers to local hospital workers so they can stay connected with their loved ones and distributing hand sanitizer produced by ExxonMobil to emergency responders across Louisiana.

Popingo's Convenience Stores LLC is donating gas gift cards to Prevost Memorial Hospital in Donaldsonville; St. Elizabeth Our Lady of the Lake Ascension and Coastal Urgent Care in Gonzales; Ochsner Medical Complex in Iberville; St. James Parish Hospital in Lutcher; and Assumption Community Hospital in Napoleonville.

RA Collette Oil Co Inc. donated gas gift cards to the Woman's Hospital in Baton Rouge.

Rio Fuel & Supply donated gas gift cards to Ochsner St. Mary in Morgan City.

WB McCartney Oil Co. donated gas gift cards to Jackson Parish Hospital in Jonesboro.
OPW
OPW, a Dover company, donated between $500 and $1,000 to key foodbanks in communities where OPW employees live and work. These organizations include: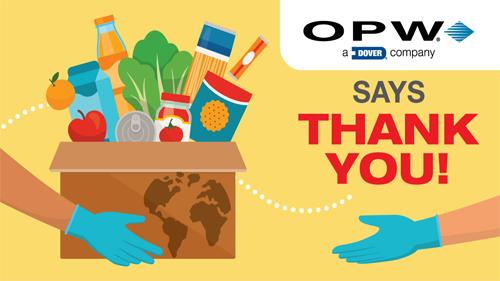 Greater Chicago Food Depository, Illinois

Khaana Chahiye, Mumbai, India

Oz Harvest, New South Wales, Australia

Inter-Faith Food Shuttle, North Carolina

The Trussell Trust, North Yorksire, United Kingdom

Shared Harvest Foodbank, Ohio

Suzhou Industrial Park Volunteers Association, Suzhou, China

De Pere Christian Outreach Food Pantry, Wisconsin
"Many communities and industries have been impacted by COVID 19," said OPW President Kevin Long. "We recognize the challenging times and are committed to supporting our employees and the communities in which we operate. OPW would like to thank the local foodbanks that are providing critical services for our neighbors in need."
Parker's
Parker's recently donated 700 N95 face masks to frontline healthcare providers at Roper St. Francis Healthcare in Charleston, S.C., during the COVID-19 pandemic.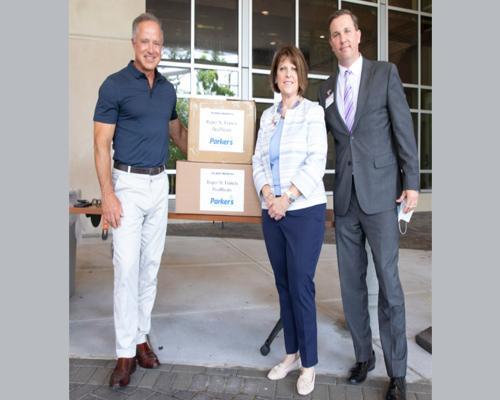 In total, the Savannah, Ga.-based c-store operator has donated more than 7,000 face masks to hospitals and healthcare providers across South Carolina and Georgia over the past six weeks.
"We're deeply grateful to all the doctors, nurses, clinicians and staff who are providing exceptional healthcare to area residents throughout the Coronavirus pandemic," said Parker's founder and CEO Greg Parker. "We know there have been mask shortages throughout the region and want to make sure area healthcare workers have the Personal Protective Equipment they need to stay safe while caring for patients."
Shell Oil Co.
Shell donated $50,000 in fuel gift cards to the Meals on Wheels COVID-19 Response Fund. The donation will be evenly divided among five cities, including Atlanta; Columbia, S.C.; Long Beach, Calif.; Parkersburg, W. Va.; and Plantation, Fla.
"Now more than ever, Meals On Wheels Atlanta is counting on our volunteers to deliver meals and smiles to our senior neighbors facing hunger and isolation," said Meals on Wheels of Atlanta Executive Director Charlene Crusoe-Ingram. "Our volunteer delivery drivers save us over $550,000 per year in labor costs, so this generous donation of fuel gift cards from Shell provides us with a way to say thank you to our volunteers and make it a little easier for them to deliver meals to our seniors each week."
Stewart's Shops
To date, Stewart's has allocated $790,000 of financial assistance to 209 organizations during the COVID-19 pandemic.
Stewart's Shops has financially supported the arts and organizations like United Way to provide PPE products. In addition to monetary support, thousands of gift certificates for milk and eggs have been sent to food pantries to cope with the overwhelming spike in demand for food; schools have received countless ice cream certificates to reward students for their hard work during these trying times.
"Stewart's and the Dake Family believe that nonprofit organizations are essential to the well-being of all our shops' communities. We are committed to helping them provide important services during these challenging times and in the future," said Susan Dake, president of the Stewart's Foundation.
Wawa Inc.
Wawa kicked off a new initiative, "Hoagies for Healthcare Heroes," allowing customers to support hospital workers by ordering a Wawa Shorti on the Wawa App during National Nurses Week (May 6 to May 12).
For every Shorti hoagie purchased, Wawa matched the purchase by donating one Shorti hoagie coupon to a hospital worker (up to 50,000 hoagies coupons) throughout its operating area of Pennsylvania, New Jersey, Delaware, Maryland, Virginia, Florida and Washington, D.C.
"Wawa is always listening to our customers and with an influx of inquiries from individuals wanting to join us in our efforts in supporting local hospital workers chainwide, we saw this as a perfect opportunity to offer our customers an easy way to contribute," said Chris Gheysens, Wawa president and CEO. "We're appreciative of our customers' desire to help the community and think this is a perfect way for all of us together to make a difference during this crisis."
In addition to providing free hoagies, Wawa continued offering free coffee to healthcare workers and first responders through May 31 in all of nearly 900 stores.
Weigel's
Powell, Tenn.-based Weigel's partnered with Second Harvest Food Bank of East Tennessee and Second Harvest Food Bank of North East Tennessee to distribute 60,000 gallons of milk to those in need.
"We feel compelled to help our neighbors during this global yet local crisis," said Bill Weigel, chairman for Weigel's. "We're in the food business. Many of our neighbors have lost their jobs and are struggling to put food on their tables, so it seemed natural we could contribute in this way."
Weigel's operate 68 convenience stores, a dairy and a bakery, all within a 100 mile radius of their corporate headquarters.