Community Service Spotlight: C-store Retailers, Suppliers Come Together for Hurricane Florence Relief Efforts
Get great content like this right in your inbox.
Subscribe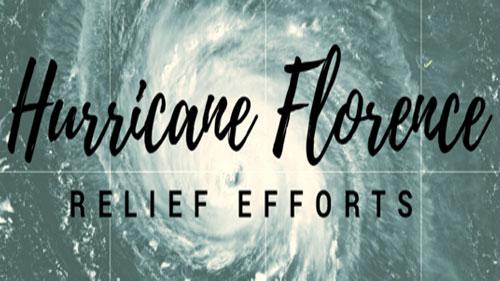 NATIONAL REPORT — Ten days after Hurricane Florence roared onto land along the coastal Carolinas, hundreds of roads remain closed, thousands of residents remain out of their homes or under evacuation watches, and hundreds are being rescued from rising waters.
The death toll from the storm reached 43, and tentative damage estimates in the range of $50 billion place Florence among the 10 most costly hurricanes in U.S. history, reported USA Today.
The convenience channel continues to show that community is at the heart of the industry. In this special Community Service Spotlight, Convenience Store News highlights philanthropic efforts made from across the U.S. following the devastation of Hurricane Florence:
7-Eleven Inc.
A member of the American Red Cross Disaster Responder Program, 7-Eleven is actively raising funds to support the agency's relief efforts by encouraging customers at its c-stores nationwide to add $1 to their purchases at checkout. The Irving, Texas-based company also invites customers to donate to relief efforts online at 7-eleven.com/hurricane-relief.
"7-Eleven is a 24/7 business, and the customers and neighborhoods we serve count on us to be open and stocked with the products they need most. That is especially true when disaster strikes," said Chris Tanco, executive vice president and chief operating officer of 7-Eleven. 
Additionally, in preparation for Hurricane Florence, 7-Eleven stores in and near the hurricane evacuation areas brought in additional truckloads of supplies to aid residents.
"7-Eleven's stores in the Carolinas and Virginia will strive to be the last to close and first to open to assist people in impacted areas," Tanco added. "Likewise, the world looks to the American Red Cross to respond and provide help to people impacted by disasters as quickly as possible. We understand preparedness, and contributions such as ours are critical to their success."
Anheuser-Busch
The St. Louis-based brewer is sending more than 300,000 cans of drinking water in six truckloads to North Carolina, South Carolina and Virginia from its brewery in Catersville, Ga.
Love's Travel Stops & Country Stores
In preparation for Hurricane Florence, Love's opened a new location ahead of schedule in Bastian, Va., to provide fuel, food and supplies to area residents.
"We opened our location early so we can take care of customers preparing for Hurricane Florence," said Tom Love, executive chairman and founder of Love's. "Our new travel stop in Bastian will provide a fuel option for those evacuating or braving the storm. We look forward to serving the people of Bastian and travelers by being a community partner in times of need and always along Interstate 77."
MillerCoors
MillerCoors donated 80 pallets of water from its brewery in Virginia to American Red Cross shelters in the region.
PepsiCo
The Purchase, N.Y.-based company is giving back to its birthplace, New Bern, N.C., which was overwhelmed by torrential flooding from Florence. The PepsiCo Foundation donated $1 million to relief agencies and 350,000 meals to help those devastated by the storm.
"#NewBernNC is the birthplace of @Pepsi. We wouldn't be here without you and we are here for you no and always. #NewBernStrong," Pepsi CEO Indra Nooyi tweeted on Sept. 14.
Procter & Gamble
Procter & Gamble's (P&G) Tide Loads of Hope mobile laundry vehicles were deployed in Fayetteville, N.C., on Friday, Sept. 21 to provide free full-service laundry to residents affected by the recent hurricane and flooding. Residents could bring clothes — up to two loads per household — to be washed, dried and folded free of charge. All washable clothing types were accepted with the exception of heavy bedding.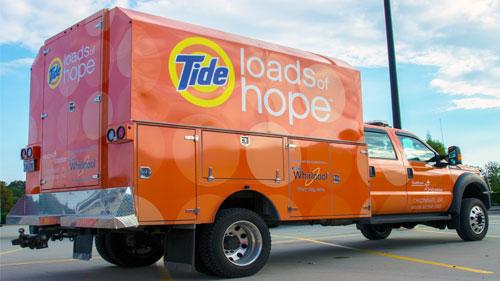 P&G will also distribute free personal care and cleaning kits to those affected with everyday essentials needed to meet basic hygiene and home care needs.
In 2005, P&G launched Tide Loads of Hope to provide much-needed laundry services to families affected by Hurricane Katrina. Since that time, Tide Loads of Hope has washed more than 68,000 loads of laundry for more than 50,000 families impacted by disasters across the U.S. and Canada. The Tide Loads of Hope trucks are equipped with high-efficiency washers and dryers donated by Whirlpool and between the two trucks can do up to 300 loads of laundry per day for communities in need.
Wawa Inc.
The Wawa Foundation donated $150,000 to the American Red Cross. Funds are designated to provide disaster relief assistance to those communities most affected by Hurricane Florence by providing immediate and vital support.
"Our hearts go out to everyone affected by Hurricane Florence during this difficult time for so many across the Carolinas. At Wawa, we are committed to providing assistance and aid to those in need during times of crisis," said Wawa Foundation President Jay Culotta. "For decades, Wawa and The Wawa Foundation have worked with the American Red Cross in these kinds of efforts including providing aid for Hurricanes Maria, Irma, Harvey, Sandy, Andrew, Katrina and Rita. We know the impact the Red Cross has on helping communities who need our support, and we are committed to assisting their efforts in this recent disaster."