Community Service Spotlight: EG America, MAPCO & Volta Oil
Get great content like this right in your inbox.
Subscribe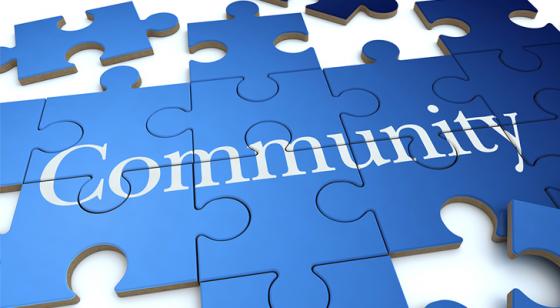 NATIONAL REPORT — Giving back through community service efforts and charitable donations is a positive force that keeps many retailers and suppliers of this industry moving ahead. On a regular basis, Convenience Store News highlights these philanthropic efforts in this special section.
Here are the latest company spotlights:
The Coca-Cola Co.
The Coca-Cola Foundation and national nonprofit Keep America Beautiful selected recipients of the 2019 Coca-Cola Public Spaces Recycling Bin Grant Program, which is aimed at improving recycling collection in more public space locations throughout the country.
This year, the program is distributing public space recycling bins to 31 organizations, including Keep America Beautiful community-based affiliates as well as government agencies, colleges and universities, and Native American tribal locations in 19 states.
Grant recipients were chosen by Keep America Beautiful based on their potential to collect the most cans and bottles, as well other considerations such as:
Creating new or expanding access to recycling in a community;

Providing greater numbers of people with exposure or access to collection bins;

Providing access in environmentally sensitive areas (e.g., along waterways); and

The long-term potential of the public space recycling efforts to increase recycling participation in a community.
For the past 13 years, The Coca-Cola Foundation has supported the program through a $350,000 grant.
"Supporting community recycling programs and providing increased access to recycling is a priority for The Coca-Cola Foundation. Through our longstanding partnership with Keep America Beautiful on the Recycling Bin grant program, we can help communities improve access to recycling in public spaces, reduce litter and improve the environment," said Helen Smith Price, president of The Coca-Cola Foundation.
The Coca-Cola Foundation is the global philanthropic arm of The Coca-Cola Co.
EG America
EG America recently wrapped up a donation campaign to raise funds for Disabled American Veterans (DAV), an organization that helps ill and injured military veterans receive the benefits they've earned.
During its campaign, EG America raised more than $800,000, exceeding its initial goal of $200,000. EG Group co-CEOs Zuber Issa and Mohsin Issa rounded up the donation to $1 million.
"We know many of our associates and customers are veterans and believe it is important to recognize and give back to those who have served our country," said Jay Erickson, president of EG America. "Partnering with DAV is very exciting for our store teams and allows them to 'work as one' and connect to the communities where they live and work in a meaningful way."
The EG America portfolio includes EG America, Kwik Shop, Loaf n' Jug, Quik Stop, Minit Mart, Tom Thumb, Certified Oil, Fastrac and Turkey Hill Minit Markets.
Ferrero Group
The Ferrero Group released its 10th Corporate Social Responsibility Report, where it announced a new commitment to make all of its packages 100 percent reusable, recyclable or compostable by 2025.
The new commitment on packaging further enhances Ferrero's approach to continuously improving its packaging footprint and it fits into its strategy aimed at minimizing its environmental impact, from raw materials to production plants and logistics, along the entire value chain, the company stated.
As part of the announcement, Ferrero signed the Ellen MacArthur Foundation's New Plastics Economy Global Commitment, which is committed to eliminating problematic or unnecessary plastic packaging through redesign, innovation and new delivery models.
"Ferrero has always taken a responsible approach to delivering high-quality product experiences that positively contribute to both today and tomorrow's society. This belief continues to drive us toward a responsible value chain by sourcing sustainably, producing sustainably and now by further strengthening our commitment to more sustainable packaging," said Giovanni Ferrero, executive chairman, Ferrero Group.
"We are pleased to announce our commitment toward 100 percent reusable, recyclable or compostable packaging by 2025 and signing The New Plastics Economy Global Commitment with the Ellen MacArthur Foundation allows us to support the acceleration toward a circular economy," he added.
Heineken
Building up to First Responders Day on Oct. 28, Heineken donated $1 for every Heineken 0.0 six-pack purchased at retail locations, or $1 for every bottle or can purchased in on-premise accounts throughout the month of October.
The donation, up to $50,000, will benefit the Stephen Siller Tunnel to Towers Foundation that honors the sacrifice of Stephen Siller, who died saving others on Sept. 11, 2001, and honors military and first responders.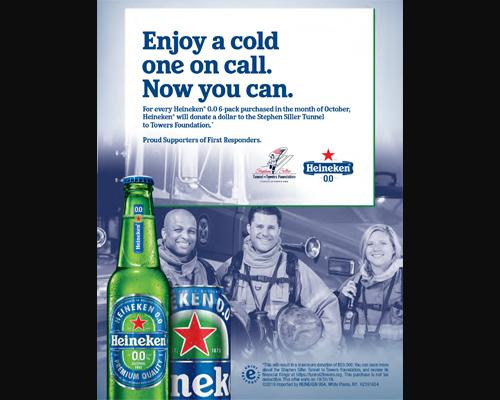 "Regardless of the nature of the call, first responders never know what they're heading into until they get there," stated Meredith Kiss, brand manager, Heineken USA. "We are proud to reinforce the brand's support of the foundation and drive the charitable contributions by activating on- and off-premise sampling events merchandised with POS [point of sale] in a retail promotion beginning Sept. 28. We will also be working with a celebrity, to be announced, to drive this message and show support for first responders.
"We are honored to be part of keeping Stephen Siller's legacy alive through a variety of philanthropic initiatives geared toward first responders," she added.
Heineken 0.0 also supported the Tunnel to Towers 5K Run & Walk NYC on Sept. 29. The event symbolizes Siller's final footsteps to the Twin Towers site and pays homage to the FDNY firefighters, law enforcement officers and civilians who lost their lives on Sept. 11, 2001.
Through Twitter, Heineken 0.0 will call on consumers to nominate first responders in their towns and will then deliver cases of the beer to local firehouses and police stations as a thank you. In-store display merchandising will amplify the program and maximize the donations to the foundation.
Heineken 0.0 is a subsidiary of Heineken International NV.
MAPCO
Nashville, Tenn.-based MAPCO recently celebrated a donation of more than $400,000 to children's charities as part of its third Giveback Tournament, a two-day signature event of the company's corporate social responsibility program that raises funds to benefit local youth health, advocacy, and education nonprofits and charitable organizations within its footprint.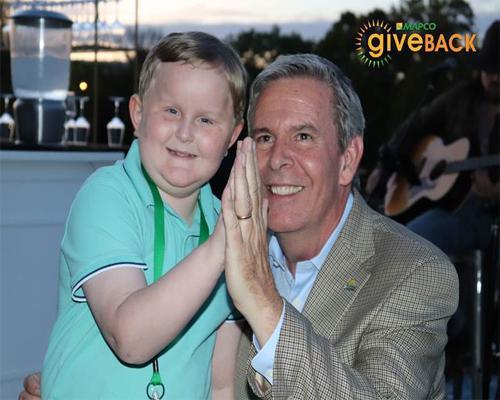 This year's Giveback Tournament was the company's largest to date, with a more than 20 percent increase from funds raised in 2018.
The Giveback Tournament raised funds predominantly for four charities: Monroe Carroll Jr. Children's Hospital at Vanderbilt, St. Jude Children's Research Hospital, the Nashville Predators Foundation, and Children's Miracle Network. It was supported by corporate partners Pepsi, Valero Energy Corp., Frito-Lay, Krispy Krunchy Chicken, Coca-Cola, Keurig Dr Pepper and Core-Mark, among many others.
MAPCO also held a "Coffee with a Cop" event on Sept. 18 at its 4211 Charlotte Ave., Nashville, location. During the event, which ran from 8 to 9:30 a.m., residents could meet local law enforcement, ask questions in an open forum, and learn how MAPCO and law enforcement join forces to keep communities safe. Free coffee was distributed.
MAPCO operates 345 locations throughout Tennessee, Alabama, Georgia, Arkansas, Virginia, Kentucky and Mississippi.
Sparkling Ice
For the fourth year, Sparkling Ice partnered with the Honor Flight Network, a nonprofit that honors American veterans. As a result of the brand's annual fundraising programs, Sparkling Ice helped transport heroes from their hometown of Seattle to Washington, D.C., to visit their respective war memorials on Oct. 12.
To support the cause, Sparkling Ice has:
Released new limited-edition case wraps specially designed to promote Honor Flight;

Created a patriotic in-store retail program; and

Raised more than $216,000 for the Honor Flight Network since 2016, with a goal of obtaining an additional $130,000 through ongoing initiatives.
Parker's
Parker's hosted its seventh annual Fueling the Community Charity Golf Tournament, which raises money to support education at all area schools, as well as hospitals and other causes tied to the communities the company serves.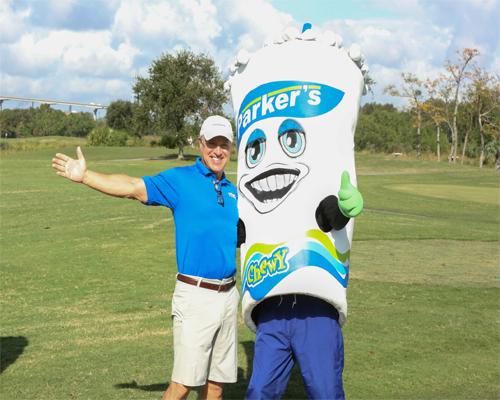 Since its founding in 2011, the Fueling the Community program at Parker's has donated more than $1 million to schools in coastal Georgia and South Carolina, and has also endowed the Parker's Emergency and Trauma Center at Memorial Health University Medical Center in Savannah, Ga.
In addition to money raised at the golf tournament, Parker's also donates a portion of the proceeds of gas sold at all Parker's locations on the first Wednesday of every month to the Fueling the Community program.
Tyson Foods
Tyson Foods and NACS supported the greater Atlanta community by donating 4,774 cases (38,526 pounds) of assorted Jimmy Dean and Hillshire Farm products to the Atlanta Community Food Bank.
For the past five years, Tyson Foods and NACS have teamed up to support the community that they call "home" during the annual NACS Show, the global convenience and fuel retailing's premier industry event. This year's NACS Show took place in Atlanta at the Georgia World Congress Center from Oct. 1-4.
"Partnering with organizations like the Atlanta Community Food Bank and NACS is important to us in raising awareness about food insecurity in communities all around the United States," said Nancy Todys, senior manager, convenience channel development, Tyson Foods. "In the greater Atlanta community, programs supported through the Food Bank serve more than 85,000 people each week and we're honored to be a part of those efforts."
From thousands of food bank donations over the years, grants to community organizations, and hunger-related volunteerism, Tyson Foods focuses on hunger relief efforts. In 2015, Tyson Foods announced its renewed commitment to hunger relief by pledging $50 million in cash and in-kind donations by 2020 in the fight against hunger, with a special focus on innovative initiatives at the local level.
Volta Oil
This summer, Volta Oil, its 16 Rapid Refill locations and newest concept Garrett's Family Market partnered with the Alzheimer's Association, Massachusetts/New Hampshire Chapter for the ninth consecutive year as part of the Purple Pump Up for Alzheimer's campaign. This year's efforts raised more than $147,000.
The campaign, which ran from June 1 through July 21, gave patrons at the 17 participating locations throughout Massachusetts, New Hampshire and Rhode Island the option to make donations to the Alzheimer's Association at the gas pump or in stores. On June 21, the longest day of the year and an important awareness day for the Alzheimer's Association, 5 cents of every gallon of gas sold was donated to the cause.
"Our associates do an amazing job not only raising funds during the Purple Pump Up Campaign, but also getting the message out about a world without Alzheimer's," said Jim Garrett, chairman of Volta Oil. "I am not only truly thankful for all the effort our personnel have put into the campaign, but also grateful for the support our dedicated sponsors give the Purple Pump Up event year after year."