Conn. Service Station Celebrates 80th Anniversary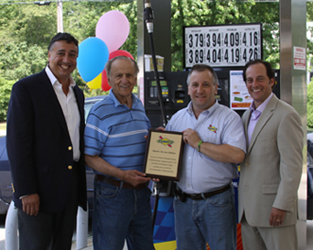 NIANTIC, Conn. -- Niantic Service Station, located at 188 Pennsylvania Ave. here, is celebrating its 80th anniversary this year. The business is family owned and operated by George and Dan Trakas.
Established in 1931, Niantic Service Station has served the local community for eight decades with Sunoco-branded fuel and a large convenience store and deli.
The station marked the milestone with a celebration on June 16-17 that included discounted gasoline, raffles, free food, children's game and prizes and a generous donation to Care and Share. The all-volunteer organization provides food, financial and emergency support to individuals and families in East Lyme/Niantic and Salem, Conn.