Consumers Believe They're Cutting Back, Despite Spending More
CHICAGO -- Of the 13 key consumer markets in the United States today, shoppers claim to be spending more in only two of them – in-home food and household care. New research from Mintel, however, indicates that consumer spending year over year has actually increased across all evaluated markets, highlighting the fact that Americans remain focused on getting the best deals for their dollars.
"Although the country officially exited recession nearly four years ago and consumer expenditures are up, Americans retain a cautious approach toward purchasing and avoid conspicuous consumption," said Fiona O'Donnell, lifestyles and leisure analyst at Chicago-based Mintel. "…Rather than having pride in purchases and all things 'new,' consumers now appear to take pride in their ability to cut costs, find deals and pay lower prices than retail."
When it comes to where consumers think they are cutting back the most, the out-of-home alcoholic drinks sector has taken the biggest hit with a net difference of 47 percentage points. Rounding out the top five areas where consumers believe they have reduced spending the most are: leisure and entertainment (minus 37 percentage points), vacations (minus 36 percentage points), dining out (minus 33 percentage points), and home and garden (minus 32 percentage points).
Meanwhile, in terms of actual consumer category spending across the same markets, spending has risen year over year. Sectors seeing the greatest increase in actual spending include: transportation (up 7 percent), dining out (up 6 percent), in-home alcoholic drinks (up 6 percent), out-of-home alcoholic drinks (up 6 percent) and home and garden (up 5 percent).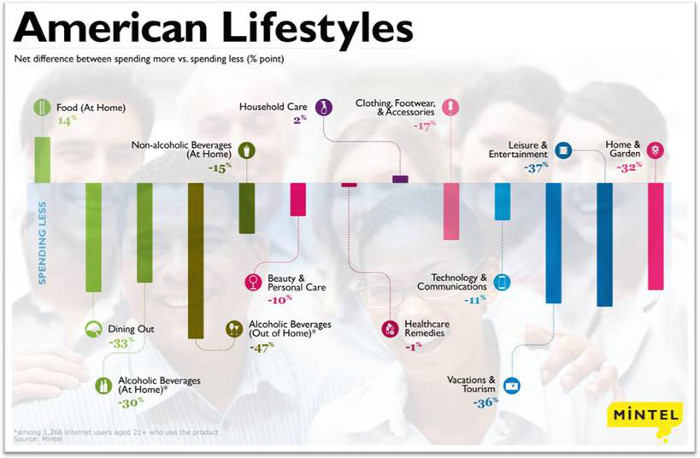 "In many categories, consumers have been conditioned by a nearly never-ending cycle of sales, coupon offers, members-only discounts, lower-priced product alternatives, etc., to avoid ever paying full price," O'Donnell stated. "Meanwhile, technological advancements of the past five years and mobile technology's increasing penetration have made price comparisons and strategic shopping more accessible. For these reasons, marketers should not expect a swing back to pre-recession impulse buying habits and spending on credit."
With the lifestyles of many American consumers in flux over the past five years, Mintel's annual American Lifestyles report highlights the legacy of the economic downturn, demonstrating how frugal ways have become set in the nation's mindset. When asked about how spending habits have changed over the past five years, two-thirds of all Americans (66 percent) admit they spend money more cautiously now.
Four in 10 (40 percent) admit they are doing more free activities, while the same number (40 percent) said they look for more ways to save or invest money. Around four in 10 (38 percent) are now spending more time with their family, yet the same number (38 percent) say they are going on fewer vacations.
Further revealing the impact of the economic crisis, more than two-thirds of consumers (68 percent) say that over the past five years, they have been more likely to pay attention to product prices. More than half conduct price comparisons (59 percent); buy items only if there is a need (54 percent); use coupons more often (53 percent); or wait for discounts before buying higher-priced items (52 percent).