Consumers Cautious Despite August Retail Sales Bump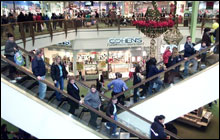 WASHINGTON, D.C. -- U.S. retailer sales posted their largest gain in five months in August on strong receipts at gasoline stations and clothing outlets, according to the U.S. Commerce Department.

The Commerce Department said Tuesday total retail sales rose 0.4 percent, adding to data such as private payrolls and manufacturing for August that have pointed to a tentative improvement in the economy after a recent soft patch, reported Reuters.

The increase in retail sales was the second monthly gain in a row and was slightly above market expectations for 0.3-percent rise. Sales rose 0.3 percent in July.

In a separate report, the Commerce Department said business inventories increased 1.0 percent in July, the largest since July 2008 and double market expectations for a 0.5-percent rise as sales rebounded strongly.

The National Retail Federation (NRF) attributed the uptick to a strong finish to the back-to-school season as aggressive promotions and state sales tax holidays helped lure families into stores last month.

NRF's 2010 Back to School survey, released in July, found the average family planned to spend $606.40 on apparel, shoes, electronics and supplies for children in grades K-12 while average spending on college students was expected to reach $616.13. Back-to-school spending was forecast to hit $55.12 billion this year, far surpassing 2009 levels

"Most Americans are in a much better financial position than a year ago, but they are still spending cautiously, looking for bargains and comparing prices before buying," said NRF President and CEO Matthew Shay. "After leveraging aggressive promotions to bring in back-to-school shoppers, retailers are putting the finishing touches on promotions and pricing for the upcoming holiday season."

August retail sales released today by the U.S. Commerce Department show total retail sales (which include non-general merchandise categories such as autos, gasoline stations and restaurants) increased 0.4 percent when seasonally adjusted over July and increased 3.5 percent unadjusted year-over-year.

"While the underlying trends remain positive, shoppers are still focused on getting their finances in order," said NRF Chief Economist Jack Kleinhenz. "The challenge for retailers is to convince consumers that the recession is over and to buy accordingly."

That might be difficult to do, though as unemployment remains stubbornly high and Congressional Republicans and the President remain far apart on passing new a new stimulus plan and the future of the Bush-era tax cuts.