Consumers to Trim Halloween Spending This Year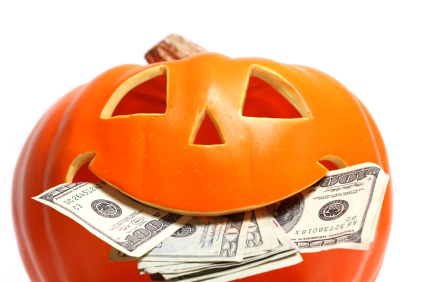 WASHINGTON, D.C. -- Nearly 158 million consumers will participate in Halloween activities this year, down slightly from 170 million last year, according to the National Retail Federation's (NRF) Halloween Spending Survey conducted by Prosper Insights & Analytics.
Those celebrating will trim their budgets, with the average consumer expected to spend $75.03 on décor, costumes, candy and fun, down from $79.82 last year. Still, average spending on Halloween has increased 54.7 percent since 2005, with total spending estimated to reach $6.9 billion in 2013.
"Still one of the most beloved and anticipated consumer holidays, Halloween will be far from a bust this year," said Matthew Shay, president and CEO of NRF. "After a long summer, the arrival of fall will put millions of Americans in the spirit to partake in traditional and festive activities."
NRF expects celebrants to spend $2.08 billion on candy and $360 million on greeting cards. Second only to Christmas in terms of spending on decorations, Americans will spend $1.96 billion on life-size skeletons, fake cob webs, mantle pieces and other festive decorations.
For the first time, NRF asked people when they will begin shopping for Halloween. According to the survey, nearly one-third (32.8 percent) will begin shopping before Sept. 30. An additional 67.2 percent of consumers will shop in October. Meanwhile, 43.6 percent will begin the first two weeks in October and 23.6 percent will wait until the final two weeks of the month.
Despite the anticipation of the popular fall event, one-fourth of U.S. consumers (25.2 percent) said the state of the economy will impact their Halloween spending plans -- nearly nine in 10 (86.1 percent) will spend less overall, up slightly from 83.5 percent last year. Additionally, 32.7 percent said they'll buy less candy.
NRF represents retailers of all types and sizes in the United States and more than 45 countries abroad.