Continuing to Meet Member Needs
SIGMA: Ameri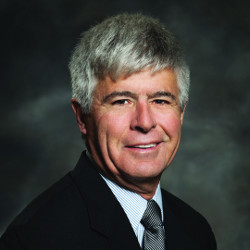 ca's Leading Fuel Marketers is a unique group of approximately 260 regular marketer member companies, with associate members in related fields, including fuel suppliers, financial service suppliers, transport providers and fleet card companies. Together, SIGMA's members have built a thriving association that is known for its education, networking opportunities and political voice on Capitol Hill. The foundation of SIGMA's strength is its members' willingness to share new ideas and best practices with each other — both online and in person at meetings hosted by SIGMA throughout the year.
I have been in the fuel marketing industry as long as I can remember. My father and uncles founded our company, now known as U.S. Venture, in 1951 as a home heating oil business. They soon expanded, which led to a service station, then their own bulk plant and eventually petroleum terminals. I grew up around the company and have now worked in the fuels marketing industry for more than 40 years. As our company has changed — from a small home heating oil company to a large, independent wholesale fuel distributor in the Midwest — so too has the industry. Independent marketers nationwide are changing as the industry does, opening a wide range of opportunities and business models. SIGMA must also change to meet the new and evolving needs of its members.
One of the key contributors to the success of our company is our involvement in SIGMA. Networking and educational opportunities provided by SIGMA over the years have given me, my family and staff the knowledge and experience of experts across the industry. Last year, SIGMA expanded its shared resources through SIGMA Exchange, its members-only online networking site. It is a true member benefit to have libraries of past education presentations, IGM articles and other meeting materials archived and easily searchable. Not to mention, the ability to ask a question of peers across the country and get quick responses delivered to your inbox.
SIGMA has expanded its networking and educational opportunities over the years to meet its members' wants and needs. It is truly a member-driven association. SIGMA now offers more than a dozen Best Practices Share Groups, with a new Credit and Collection Share Group scheduled to launch in October. In addition to its three larger meetings each year, SIGMA also hosts special interest groups and masters programs, and this list will continue to grow. The value of SIGMA Exchange in this process is important. Now, employees in your company who are not able to travel to the trade group's meetings will have the same networking and education advantages as those who do, but virtually.
SIGMA's programs are not only for CEOs. They are also for those that direct information technology, finances, human resources, operations or environmental compliance. Diverse operations and leadership in its member companies is reflected in the diversity of opportunity SIGMA strives to provide. This is another perfect example of our association evolving to meet the needs of its members. Through the addition of new share group topics in areas of interest that may not have been relevant to many of us as fuel marketers even 10 years ago but are today, SIGMA recognizes that the market is changing. As new fuels come online and we strategize the most effective ways to provide them, education in these new areas and having a forum to share our experiences will be that much more important.
SIGMA is also its members' voice in Washington and through its political engagement efforts gives us an effective means to advocate for our businesses. By participating in the political process through meetings with members of Congress, both during our Summer Legislative Meeting and Day on the Hill in July and also in their home districts, SIGMA members focus their unique visions and voices into a powerful tool to move our industry forward.
During our Day on the Hill in July, our members discussed SIGMA's priority issues for 2013. These include the Renewable Fuel Standard and legislation to limit marketer's liability related to the sale of new fuels as they reach the market; legislative proposals that would inhibit SIGMA members' ability to provide food to low-income Americans, particularly in rural areas; and credit and debit swipe fees. Our efforts are paying off. The recent ruling by a federal judge stating that the Federal Reserve Board must revise its final rule that set the cap on debit swipe fees at 21 cents to a lower cap amount to more closely mirror what Congress envisioned was a major victory for our industry, and SIGMA members helped our message be heard.
We will continue to work as an association to look for ways to build on that success to bring more transparency and competition to the credit card swipe fee market. SIGMA is also collecting data on the benefits to fuel marketers and their customers arising from the Durbin Amendment's cap on debit fees and will share that information with local and federal policymakers.
Looking ahead to the rest of 2013, we are eagerly anticipating our Annual Meeting on Nov. 19-21 in Charlotte, N.C. We have a great program prepared and attendance is climbing quickly. Charlotte is a cosmopolitan and convenient city, and will provide the perfect backdrop to the best information, education and networking in the industry. The SIGMA Annual Meeting is unparalleled in the industry.
This is my first year as SIGMA president and I am proud to be part of such a strong organization that continues to add new benefits for its members, with plans to continue these improvements for years to come. It is my observation, after many years in this industry, that no matter the challenges, no matter the changes in fuels, no matter the changes in tax structure, SIGMA members will adapt and thrive, as will their association. It is with this confidence that I am pleased to take over the reins.
Tom Schmidt is president of SIGMA: America's Leading Fuel Marketers.